BrandVoice
She: Liat Maron (39 years old), Shenkar graduate "I graduated in interior design there, then I proceeded to study Architecture, and I investigated the subconscious pretty obsessively, it must be said".
Today, the founder of SHIFFT Company, and the first developer in the world in the field of emotions engineering, combines design and architecture and the world of the subconscious and brain research and allows to engineer the emotions in every space.
The approach, according to Marom, is: "to relate to who's inside the space, and not just to what is inside the space". Liat is a creative and research woman, and the beating heart of the company, who offers her services for various and coveted companies (such as Google, YouTube, Nespresso, Amdocs, Gindi, and more), that are prepared to create for their customers and employees meaningful emotional experiences and not just beautiful designs.
He: Daniel Davidson (36 years old), Master in NLP and NLP Therapist training.
Davidson is the developer and founder of "Mind Tech" Company, which offers extraordinary rehabilitation methods for addictions such as smoking, sugars, and carbs in only 90 minutes. Daniel is a visionary and is also already the CEO of the group of companies founded by the two, at a very young age.
Together, they are pioneers of emotional engineering in Israel, and they are also in a relationship for the past 4 years. Daniel's mission is "to clean the world from harmful habits", and Liat's is "to turn every space to a place where the person could take control of his state of mind, and choose how he wants to feel in every space in his life".
Davidson brought Lian (5 years old) from his first marriage, who Marom sees as a daughter. "Surprisingly, they're very similar as well", Daniel smiles.
The two were exposed to the NLP method and suggestion, and they decided that connecting the world of science to the world of designing space and emotion engineering is no less than a global patent, that will revolutionize the world of design, self-therapy, and of course property tech.
"As of today, people use emotions engineering the wrong way, and they don't even know it. They use smells, sounds, and colors in the spaces and they create the opposite feelings from those that were supposed to be created. That wat, they unintentionally create feelings of tiredness and frustration and they negatively affect the lives of the people in that space.
The whole idea of emotions engineering is to correctly use the five senses to create the right experience for the person that spends time in a certain space. When there is no adequacy between the various senses, inner frustration is automatically created and that causes significant harm to the final result".
Consciousness as key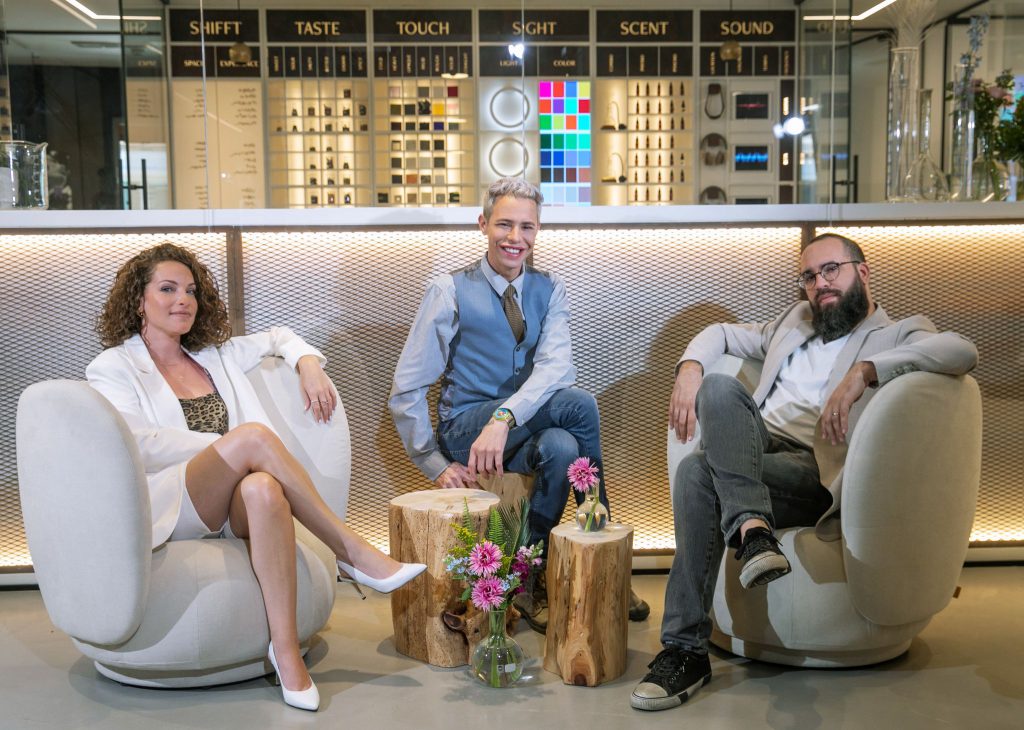 The investment: In the first round, 650 thousand dollars were funded to each of the companies, both "SHIFFT" and "Mind Tech", using the assistance of private investors. Thanks to that, Daniel and Liat were able to establish a business that today rolls out a sales turnover of $4 million a year, which is an unbelievable achievement, considering it's their first year. Mind Tech is worth 15 million dollars today.
Daniel: "to our delight, fundraising was easy, that's what happens when an idea is strong enough and provides proven results" Daniel explains. "It puts you in a position in front of the investors in which you can say to them: there, it works, we proved it".
Liat: "There are many investors that invested in both "Mind Tech" and "SHIFTT". Both companies are focused on consciousness. The common mission of the two companies is to help people produce more from themselves or succeed in something hard to succeed in, both of them talk about one's state of mind, and the ability to affect it by engineering. It's a process starting from hormones in our brain, and it ends up in a positive and impactful emotional experience".
Daniel: "I also think that this is a great privilege to invest in something that has a meaning and an extra value".
Liat: "SHIFFT" raised $ 1.7 million so far, some of which goes to the research department. We teach students emotional engineering. We are the first ones to do this in the world, and we want to reach every home around the world."
The registrants are learning the new method but they also study design and get lectures from renounced lecturers from high design institutions. They also study architecture from lecturers that teach in Tel Aviv University, and lectures from professional art directors, and other designers and architects with a market mileage of at least ten years of experience.
"It all started as Liat's 'One women's show' business," explains Davidson, "at some point, I got into the picture and we thought about how we could turn this thing from philosophy into something that is also scientific, and we started working on it.
Then we thought: we will take the most difficult cases and try solving them with emotional engineering. If we succeed in cracking those problems, we will probably be able to crack anything, any problem at all. This is how "Mind Tech" was born because we were looking for the best and most practical way to implement Liat's method. We wanted to prove it works and that it's possible to create dramatic changes in people's lives, and we all know how hard it is to make people stop smoking or consuming sugar. "
The connection between the two companies is that SHIFFT is like a "roof company" and Mind Tech is actually the application of SHIFFT'S capabilities, right? That is, if SHIFFT is the 'heart', then Mind Tech is the 'arteries'.
"Exactly," they reply together. Daniel: "We created a unique method ourselves and developed it over ten years. For the first time, there is a solution that combines all 5 senses, and it creates a change in the humans' nerve system and brain waves of those present in a certain room. It is a method that allows us to actually engineer the experience within each space."
Liat: "Emotion engineering is actually like creating cocktails of emotions that eventually produce a certain experience. The cocktail itself is a secret, and it's a patent," the two say, "but those emotions we talk about are real: passion, love, joy, motivation, productivity, balance, creativity, peace, and deep sleep. We cracked 12 core emotions, and once we figured those out, we felt like we could crack any other emotion whatsoever. This solution can be implemented in order to improve sales, It can help babies to sleep better at night. It can calm down people with anxiety, and the list goes on. Recently, we started working on a solution to help people with flight anxiety, we want to help them to get on the plane with a smile on their faces."
Daniel: "SHIFFT, is a kind of a unicorn in the making. Mind Tech is also on its way to become a giant unicorn. SHIFFT could just as easily create more start-ups in the emotions engineering field. The ability to create a 'cocktail of emotions' and use it in different spaces, it's a solution that's worth a lot of money. "
Liat: "There were times we were excited to do projects for Google, but today we want to be the next Google!".
What are your roles in each company?
Daniel: "Every company has a different management."
Liat: "I will always be head of the development and product department."
Daniel: "I don't intervene. I do give advice, but Liat's word is usually the last word. I also always say that she's the boss. When it comes to employee management, recruitment, work processes, then I'm the CEO. Sometimes Liat wants to do my job as well but I disagree, and then she gets upset, "Daniel jokes." We quarrel but we're raising the bar because we are both very dominant and assertive. "
Liat: "We don't mess around and we're being very forward and honest with each other. We can get annoyed at each other, but initially, we love each other, and that's the way it works for us. If we fight at work, we continue fighting about it at home. It's the other way around as well, if we fight at home we will probably continue it to the office. "
"There are no regrets but there's not doubt the baggage is here," says Daniel, "Liat knows how to let fo of things faster than I do. I'm the one who always takes longer to smile, let it go, and shrug it off. She's just very forward and sometimes she has a "cut to the chase" attitude. I'm less uncomfortable with that".
Let's talk numbers: how many people have already used emotion engineering for rehabilitation reasons?
Daniel: "So far those about 4,000 people have tried Mind Tech method and quit their addiction within 90 minutes. 2,000 of them quit sugars and carbohydrates, and the other 2,000 quit smoking."
How many of them quit smoking for good?
Daniel: "About 90 percent."
Have applied this method to yourselves?
Daniel: "Indeed, we both quit smoking using this method, and we both quit our sugar and carbs as well".
How's SHIFFT different from other rehabilitation centers, some of which have 30 years of experience in the market?
Daniel: "That's an important question. First of all, the difference is in the core, the basics. Other companies formulate a unique philosophy,they're trying to talk to people's logic. What we do here in SHIFFT is based on science. It's emotion engineering. In the end, smoking or other harmful habits originates from emotional and hormonal reasons. We use scientific methods, we alter peoples' brain waves in order to acheive certain results, and we're able to achieve that through emotion engineering. "
What other addictions would you like to specialize in?
Daniel: "Obsessive behaviors, like nail-biting, hair-pulling, eyebrow pulling, itching, etc., it's a fascinating world for us. Porn and sex addictions can destroy relationships, and it also disconnects a person from himself and from the healthy aspect of sexuality. We're still trying to find other solutions. We started working on a solution for weed addiction, and our research shows it's going to be hard work because it's probably not going to happen in just 90 minutes. We also invest plenty of time researching different types of anxieties, from flight anxiety to driving anxuety and everyday matters and difficulties. The first results we achieved are very exciting.
In light of the ever-growing demand, Mind Tech will soon open new branches in Haifa and Rishon LeZion. We recruited a CEO that also entered the New York branch as an investor, and it's really exciting for us. We have already finished creating our entire product manual in English, and we currently have franchise applications in 12 other countries, which is amazing. We are in the final stages of preparing the contracts."
"Good luck to the competitors"
What's your vision for this business year?
Liat: "My vision is making billions of hearts beat simultaneously. This year we will create a line of special products that will go well in every bedroom, nursery, or any space you'd like".
Daniel: "Five years from now, I want a branch in every country in the world. I believe we can reach this goal, and that we can help many people. 22.5% of the population smokes, and that's about a billion people. There are 1.7 billion overweight people in the world, and over a million "obese" people worldwide. These people suffer a lot and conventional medicine does not give them adequate solutions. I look at these people and I see the prison they live in. In the end, I'm interested in helping people to get freedom, I want them to escape their prison and live a free life."
What are the visions you'd like to fulfill?
Liat: "Let's think of a man coming out of surgery, a rather simple procedure, like using a catheter. Let's assume he's doing this procedure in the highest quality private hospital. What type of emotions engineering solution does the hospital need to use?"
Something that will improve the quality of rest?
Liat: "Close. The patients should get peace. Instead, the patients usually recover in a space that is lit by very strong white light, which dramatically increases anxiety. He sleeps in a narrow bed, surrounded by cold iron banisters, He wears very uncomfortable clothes and he is surrounded by smells and noises that only increase his state of stress and anxiety. "We really think before we act, meaning I take any problem I encounter to a lab, where we work on it and process it and then we test this out and figure out what's more effective."
You're not afraid of being copied?
Daniel: "To Whoever tries to copy SHIFFT – good luck with that! I think it's an insanely hard job. It took us 10 years to crack hundreds of algorithms that create the various 'emotions cocktails'. Every sense has millions of options and thousands of formulas are needed to reach a specific emotion that will suit a maximum percentage of people.
Whoever tries to copy Mind Tech – good luck, and if they succeed, well done. There are a billion smokers around the world, I will not reach every single one. Also, there are new smokers every year. What we do requires a lot of responsibility, and we must have the desire to help other people, otherwise, we couldn't do it, it's not for the money. If you don't feel like it's your mission, you won't be able to cope with the emotional load that is required for the task. "
Is there anything else we need to know about you?
Daniel: "We are going to change the world. It's not just a nice cliché, we take it very seriously. We expect every employee and manager in our organization to take everything very seriously and to invest all they can in our mission."
Liat: "We are happy that it's already working, it's already happening and people are responding to it. It didn't just remain an idea. People today understand that to maximize their experiences, to improve their business and their lives, they need to engineer emotions in every space, and we know how to do it for them."
BrandVoice is Forbes's Marketing content brand.