In 2015 Angela Homsi, an impact-led entrepreneur, first interviewed for Israeli media, in an interview for Forbes Israel. In that interview, she said that unprecedented business opportunities and massive funds are expected to start pouring into companies delivering social and environmental values alongside financial returns. She also believed that opportunities for meaningful financial-business collaborations will bring breakthrough changes in the Middle East, which back then seemed like a far-away dream. In that interview she claimed firmly: "I am not being optimistic, but rather realistic and objective. At the end of the day, it's a numbers game. The change will come soon, sooner than we might think".
A lot has changed in the 6 years that passed and in hindsight, it seems as if Homsi indeed foresaw what is now a global trend. "The numbers don't lie," she says now, smiling.
"A once in a generation opportunity"
Homsi's captivating story is propelled by her riveting background. She was born in Beirut to a Christian father and a Jewish mother. When the family left Lebanon, her mother moved to Paris, and her father went to take care of his various businesses in Cairo. Growing up, she spent her time between the metropolis ("moving from Croissants to Shawarma") while frequently visiting the family she left back in Beirut.
She first arrived in Israel when she was 30, while working visit with Sir Ronald Cohen, the British investment guru, and then as a venture capitalist under "Generation", former US Vice President's El Gore's fund. "In Tel Aviv, I found a real home", she says. "I have never witnessed such uniqueness in my life". During the meeting in Tel Aviv when she gave her previous interview back in 2015, she estimated that the vast potential that lies in business-oriented collaborations will soon lead to far-reaching geopolitical strides across the Middle East. Back then, the thought of added peace agreement in the region seemed excessive, but since then Israel has signed historic agreements with the UAE, Sudan, and Bahrain.
"We are only at the beginning of a long journey," she says now, on a phone call from her current Abu Dhabi residence. "With every day that goes by, more and more people across the Middle East are realizing that contrary to what we have been taught in the past, we are not so different from one another. In the near future, when promises and hopes will prove themselves on the field, I am certain we will be seeing more agreements that will make the potential even greater."
When the Israel–United Arab Emirates normalization agreement, the "Abraham Accords Peace Agreements" was announced last year, Homsi and her family had already been living in the UAE for 4 years. "We came here to receive an award from the International Renewable Energy Agency (IRENA), for Ignite Power, a company we founded, operating in Africa's renewable energy sector, and as soon as we got here we fell in love with the city. For renewable energy companies, the UAE is THE place to be. The local leadership has marked an ambitious target to become a world leader of green energy, and they have been allocating massive resources to support and accompany international companies working in the sector".
"The potential for an Israeli-Emirati collaboration is even greater than we think", she claims. "It is much more substantial than funding, since we see that Israeli companies have no problem raising billions all around the world. The true potential lies in the fact that throughout the years, the UAE established meaningful relationships with gigantic markets across the Middle East, Asia, and Africa, and these could foster unprecedented growth for Israeli companies in multiple sectors. It's a once-in-a-generation opportunity."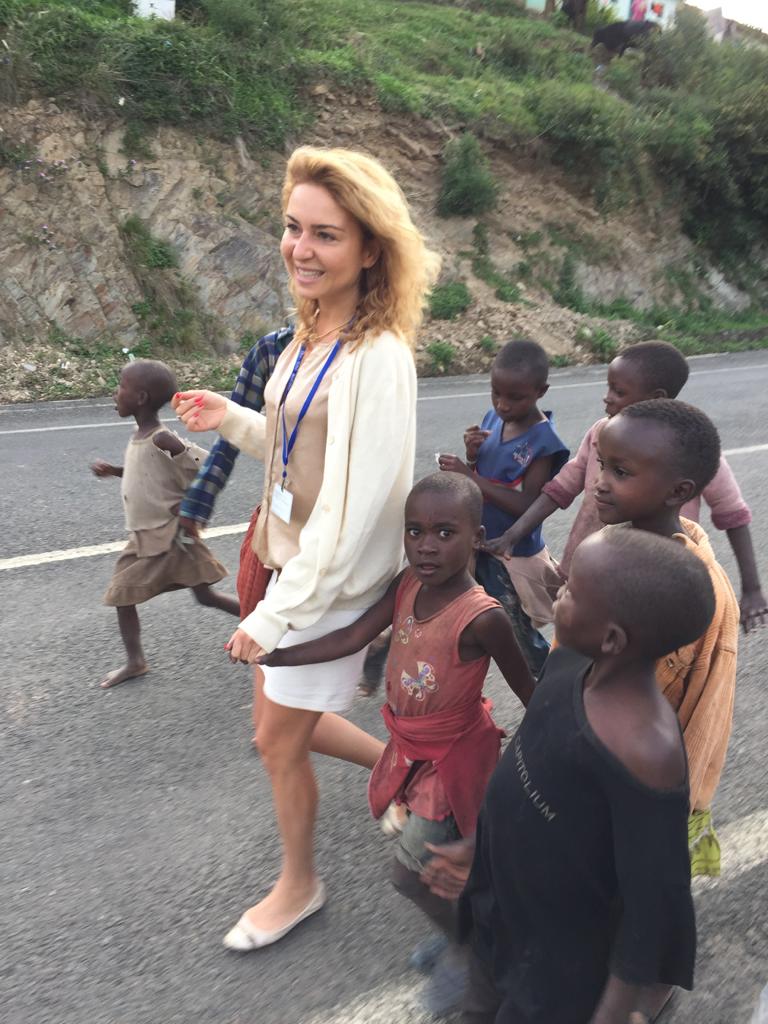 Prestigious contracts, business success, and impact
In 2014, Homsi co-founded Ignite Power, a company providing solar-based solutions to customers across Africa. In the 6 years since her last interview, Ignite connected over 1.5 million people to electricity for the first time in their lives. "I have always been a firm believer in the transforming ability of innovation and technology," she says. "But it was only when I reached the most remote villages in Africa that I realized how vast that transformation can be".
"When we kicked off our operations, most of the continent's budgets were dedicated to grid expansion projects. As time passed, the biggest development aid agencies, such as the World Bank, realized that the power grid will never be able to reach those scattered, last-mile villages, and that it could cost billions to try, and decades to perform."
"At the same time, solar home systems offer an off-grid, more sustainable, and way more affordable solution that can be installed almost instantaneously. In remote communities and villages, the stand-alone systems are the only possible solution and the sector is exponentially rising out of the vast on-field needs. Even in richer, more developed markets, stand-alone systems provide immense value and I am certain that in the future we will be seeing stand-alone solutions that will replace national grids in developed countries. Africa's villages could be a study case for the success of the model and the technology".
In recent years, Ignite won multiple prestigious contracts with leading organizations, such as the World Bank, the UK Aid Agency, The German Agency for International Cooperation or (GIZ), and more, as well as signed contracts with various African governments, including Rwanda and Mozambique. "We are only at the beginning, from a financial aspect, and also from the impact perspective," she says confidently. "This trend is gaining more speed as investors around the world want to see a positive global impact, and not only the financial bottom line".
Looking back at the last 18 months, she says the global pandemic only accelerated the changing perceptions. "During this time, renewable energy companies grew at an unprecedented pace and peace agreements that sounded like a far-off dream became a reality. In my last interview I said the change is coming faster than we might think? Well, it is even faster than I could have hoped for".