Contributors
In today's highly competitive market, many venture capitalists are promising startups' strong value beyond just a pure cash injection. Value-added teams have become the norm, focused solely on assisting the portfolio companies and helping drive them to success. The classic promise is often focused around access to a developed network of international top-tier contacts, including any future investors and potential clients, an attractive premise for early-stage founders.
But are investors actually living up to their promise? Our latest Startup Snapshot research set to find out. We collected data from 300+ startups and their investors to see what is actually happening behind the scenes.
The data showed that some investors are indeed tapping into their networks and making intros. In their last funding round, 41% of founders reported that at least half of their investor meetings came from intros from their board.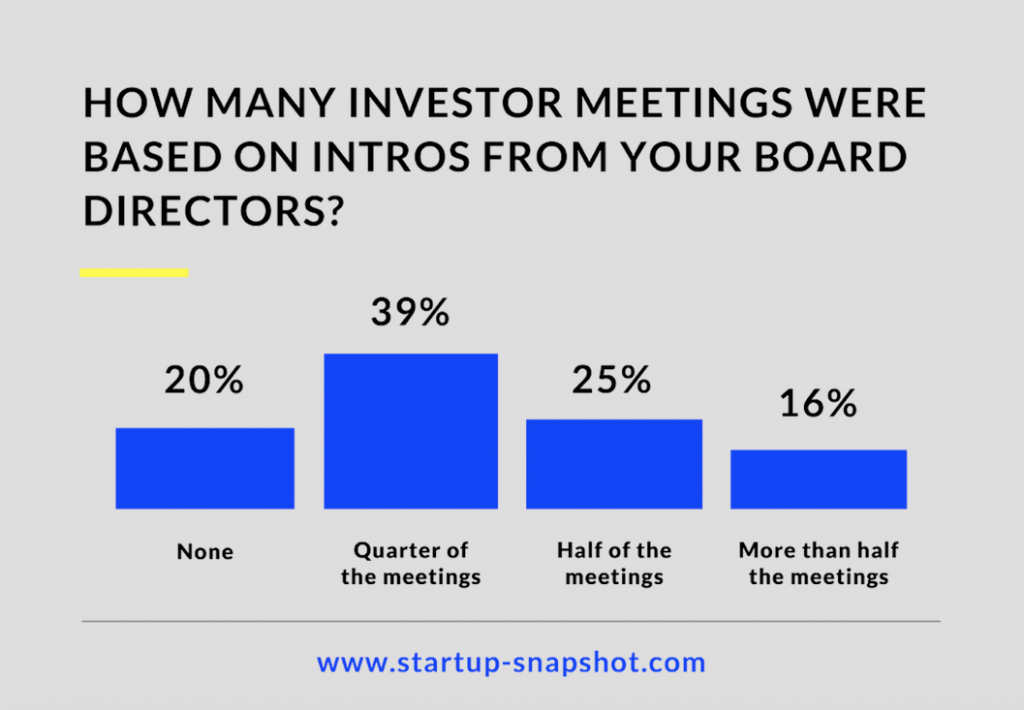 The majority of founders don't maximize value
What about the remaining 61% of founders? Why are they not able to maximize value from their board? The answer is surprising. It's because they don't feel comfortable asking for help, afraid that it will be taken as a sign of weakness.
Liat Aaronson, Chairperson of the Zell Entrepreneurship Program, comments on this phenomenon, "CEOs have to change the way they relate to their investors. They must shift from a place of trying to woo them as new investors, to a place of accepting them as long-term board members who see some of the faults 'under the hood'. It is inevitably a communication bridge that needs to be crossed openly and navigated intentionally by the CEO in order to tap into investor resources beyond pure capital."
Tapping into your investor network
Founders that have made this mental switch, view their board members as true partners and are comfortable asking them for help, especially in the fundraising process. But it is important to keep in mind that these directors are very busy and you have to make it easy for them to help you.
There are a couple of steps founders can take to make sure they maximize investor value, what Tzahi Weisfeld, VP and GM of Intel Ignite, calls "Help me, help you". He states that founders must do their homework before asking for help, making a list of potential funds, angels, and investors that are relevant for the round. They must then vet the list, making sure that each investor is relevant for the company sector, stage and that he has not invested in the competitors!
Schedule a one-on-one meeting with each of your investors and board members to see who has a strong relationship with the contacts on the list. Then ask for the intro, providing a short blurb about your company and status that they can quickly copy, paste and send.
By managing the fundraising process in this way, you can tap into immense value from your existing board members, accessing their developed international network to secure a round.
---
Yael Benjamin is the founder of Y. Benjamin Strategic Marketing, a boutique advisory firm that gets innovators from conception to market, having startups raise over $1B in funding. She's also the founder of Startup Snapshot, a data-sharing platform working to increase transparency in the venture ecosystem.
Forbes Israel Contributors are independent writers that were individually picked by Forbes staff. The writers are experts in their field and they provide professional commentary and analysis of current events. The content is unsponsored