Brandvoice
Doron Amir, the cyber entrepreneur behind the World Cyber Championship for Programmers, CyTaka, who redefined the popular Israeli phrase "the Best in Aviation" in favor of "the Best in Cyber," has just completed another $50 million fundraising at a company value of half a billion US Dollars. "We're moments before the transition from another cyber venture to an Israeli unicorn," says Amir.
Our upcoming cyber competitions in Italy and Switzerland will allow more programmers from Europe to receive the unique tools needed to train and improve performance in a much more practical and effective way than traditional studies in academia. It adds another innovative value, which helps produce more cyber and information security professionals while reducing the gap in the manpower required and appropriate for the global cyber field".
Amir adds that at the Israeli CyTaka Cyber Nation Championship held last month at the Hilton in Tel Aviv, it was discovered that the participant's skill levels increase from one competition to the next, as does the number of competitors who pass the threshold conditions for a place in the competition (EXPERT). "We started the first competition in August 2021, in Dubai, with only 10 contestants and a basic set of challenges," says Amir. 
"Today, in the Israeli Championship, we already have 50 contestants, and an advanced and improved set of cyber challenges, including the possibility of ranking and screening over 15,000 contestants who failed to qualify for the competition stage itself," he says, and clarifies that every month you can re-apply again through the CyTaka app, and win an Expert rating which will allow you to get an invitation and a seat in the competition.
It's important to emphasize that some of these participants receive job offers immediately, and some have even been accepted into a position in the field within 24 hours of the competition's end. The previous cyber champions, Matan Algrassi, Tal Shachar, and Eitan Nargassi, who each won $ 25,000, were joined by the new cyber champions – Gil Portnoy, Tzach Pahima and Guy Moriah, who collectively received prizes totaling $65,000, out of which the first prize, a total of $50,000, was awarded to the Israeli cyber champion, Guy Moriah.
The head of the Mossad congratulates
An important party interested in the competition was invited as the guest of honor at the CyTaka Israeli Cyber Nation Championship held last month, Yossi Cohen, former head of the Mossad. In that forum, he congratulated the contestants, "I want to tell you how very enthusiastic and excited about this initiative I am.
As I walk around this room, among you, I try to identify your faces, some of whom were colleagues of mine in the past. I'm sure some of you have worked with various security systems, and some of you may be considering your journeys from here on out.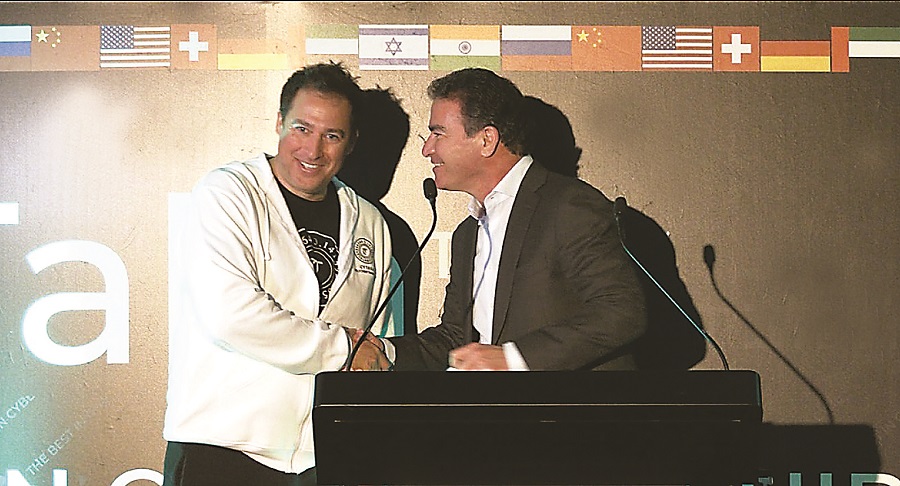 "In both my previous profession as head of The Mossad and in my current profession as an investment manager for private companies in the cyber-security world, I know our world is interconnected and dependent on your success. The better you are, the more successful, the smarter you will be and the more capable of fighting back against those aggressors who mean to attack us – the existence of the State of Israel and its systems will be further secured.
"Therefore, I would like to congratulate all the entrepreneurs and people present, who made this event their priority," Cohen continued, "thanks to you, Israel is a prominent country in the world of cyber-security. I am certain we will see you succeed in both your current missions and in your commercial, civil, and security worlds of the future, and the inevitable integration of all these systems.
"I wish I could do what you do. Your abilities are remarkable. I am more than happy to see not only men in the audience – but also quite a few women. I wish you all a great deal of success, and I hope to see you as partners in both the defense and the civilian industries, and I wish you all prosperity and growth at this evening as well."
Doron Amir explains that "CyTaka is no longer just a competition for champions, or a quality pool of outstanding cyber personnel. Soon, we'll release more products that will allow companies in the industry the opportunity to train information security teams, improve skills for dealing with cyber challenges, and the security requirements that arise and multiply day by day.
"The workforce issue is only one part of the effort to promote a safer and more global world, so we are developing unique tools for banking and finance that must be further professionally prepared for the new banking generation, with improved security surrounding virtual banking and digital asset management."
CyTaka is owned by an Israeli company Globus Research and Development Ltd., and the three main Israeli shareholders in the company are Doron Amir (holding value estimated at $115 million), Guy Anish (holding value estimated at $115 million) and Dmitri Rubinov, the main shareholder of the company (value holdings are estimated at $230 million) Rubinov brought with him extensive experience from the international financial world, and reinforces the company's vision for the products needed for the world of finance and banking in a more protected modern environment.
The company will soon launch a product designed to train cyber teams within companies and governments, and allow companies to maintain and protect their data, including the company's information security teams, without disclosing the data to the public.
Rubinov is a businessman and citizen of Israel since 2015, representing the newer, younger generation of Russians, believing in a Free economy creating international opportunities. According to Rubinov, another fundraiser will be held quite soon to implement the milestones for developing tools for virtual banking, so very soon the company will achieve a value of over $1 billion, and will grow at record speed (established in 2020), becoming the next Israeli cyber unicorn.
---
BrandVoice is Forbes's Marketing content brand