Founded one year ago, Cybernite offers a solution to the greatest challenge in cyber security: people. The majority of cyber attacks on organizations begin with exploiting human weakness. Tzahi Strauss, founding partner and CEO of the company, explains that Phishing and other human related incidents have not been effectively stopped by the existing technologies, making Cybernite's Personal Security a "breakthrough in advanced defense" for organizations and their employees.
Strauss is no stranger to this field. Immediately before starting Cybernite he was Chief information security officer of Bank Hapoalim, Bank Hapoalim is the largest of the banks in Israel. A technology entrepreneur with more than 20 years of development and management experience, he teamed up with Guy Dagan and Guy Shkolnik, two highly respected and established entrepreneurs in the tech sector. A world expert in everything related to the human factor in the cyber world, Dagan was previously one of the cyber managers for Bank Hapoalim. Shkolnik is a technologist specializing in the world of bots, AI, and cognitive development.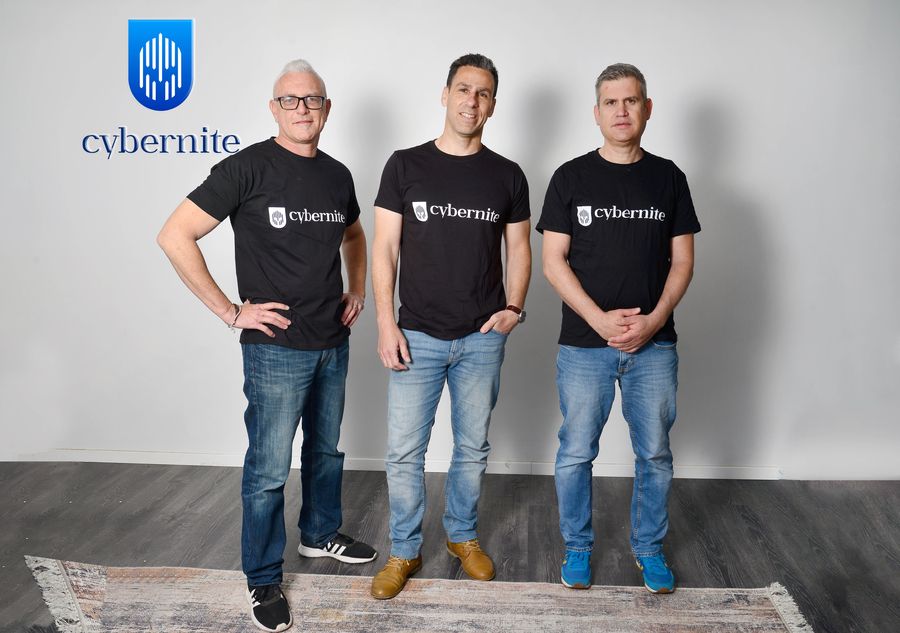 Educating employees – but not in practice
"Today's hackers increasingly target the soft underbelly of organizations, their weakest link: their employees. The infiltration technology comes in the second stage, after the employee has opened the door to the attackers.
"Alarmingly, we know that 90% of attacks gain access via employees. But the existing technological solutions only protect against what they know, so attackers are always a step ahead of the defense technology. That makes the existing solutions limited and ineffective– they're focused on technology, and fail to improve the user's ability to prevent cyber-attacks. Additionally, efforts to improve employee awareness assist in strengthening the human layer defense, but education on the subject is theoretical via exercises and is not applied in real-time, nor is it adapted enough to each employee and their specific weaknesses.
"Personal Cyber is an innovative defense concept. We provide a defense solution unlike any other currently on the market."
What do you offer to clients?
"We offer a completely new concept in the cyber world: Personal Cyber. Personalization is a major trend now that the world is increasingly digital; we're used to the idea of targeted advertisements and personalized content. Now the time has come to make use of personalization in the cyber world. But until now, we believe that existing solutions have ignored the most important resource in every organization: the human brain.
Artificial intelligence meets the human brain
"Cybernite protects against and reduces human error to a minimum. We integrate innovative AI technology and machine learning with the strongest tool available — the human mind. Ultimately that's a winning combination, because it protects users from cyber-attacks whilst simultaneously improving their ability to identify and avoid cyber-attacks. Users make quicker and smarter decisions and go from being the weakest link in the defense against cyber-attacks to its dominant, essential force.
"Our technology learns the personal patterns of each user, and can therefore analyze any and every deviation from that pattern. The system then blocks risks that arise from behavior outside of the user's familiar patterns. It also allows for a deeper look at the level of human factor risk for every organization, department, job and specific employee — as well as the employees' ability to handle those attacks.
"Cybernite learns the employee's behavior and his/her activity patterns on digital channels, thus enabling personalized protection across all channels in which the employee communicates with the outside world. Cybernite also identifies potential attacks, blocking and reporting them to information security by performing a smart dialog with the employee, thus determining the level of risk.
"Cybernite is suitable for all kinds of organizations — big or small. The SAAS product only requires a simple download and installation. After that short process, Cybernite begins to work autonomously, instantly protecting employees and the organization itself."
What kind of organizations are you targeting?
"We target all organizations in Israel and abroad. As we see it, no organization can afford to carry on with the existing paradigm, with workers representing the weakest link in their security. In the first stage, we are aiming for the global SMB market (small and medium businesses) which is typically less well protected than larger organizations. We are certain that we can significantly improve these organizations' levels of protection. Meanwhile, we already provide cyber security protection to a number of strategic organizations in various sectors such as high-tech, finance and retail."
Which employee channels does your system defend?
"Today, the product is installed in some of the leading organizations in the financial, high-tech, and higher education sectors, among others.
Strategically, we start with e-mail defense because most of the attacks (around 92%) begin via e-mail. But we are adding defense for additional channels, too, from instant messaging (WhatsApp, Slack), to video platforms (Zoom, Webex) and any digital channel used by the employee."
BrandVoice is Forbes's marketing content brand.