Bitcoin needs no introduction: the world's first digital currency is well known to all – and even those who have no connection to the financial sector, digital or otherwise,regret not acquiring a bitcoin or two a decade ago. That bitcoin is just one in a series of intriguing and innovative digital coins which currently exist in the developing Blockchain market – led by Ethereum, the second largest digital currency in the world, with a market value estimated at about $70 billion.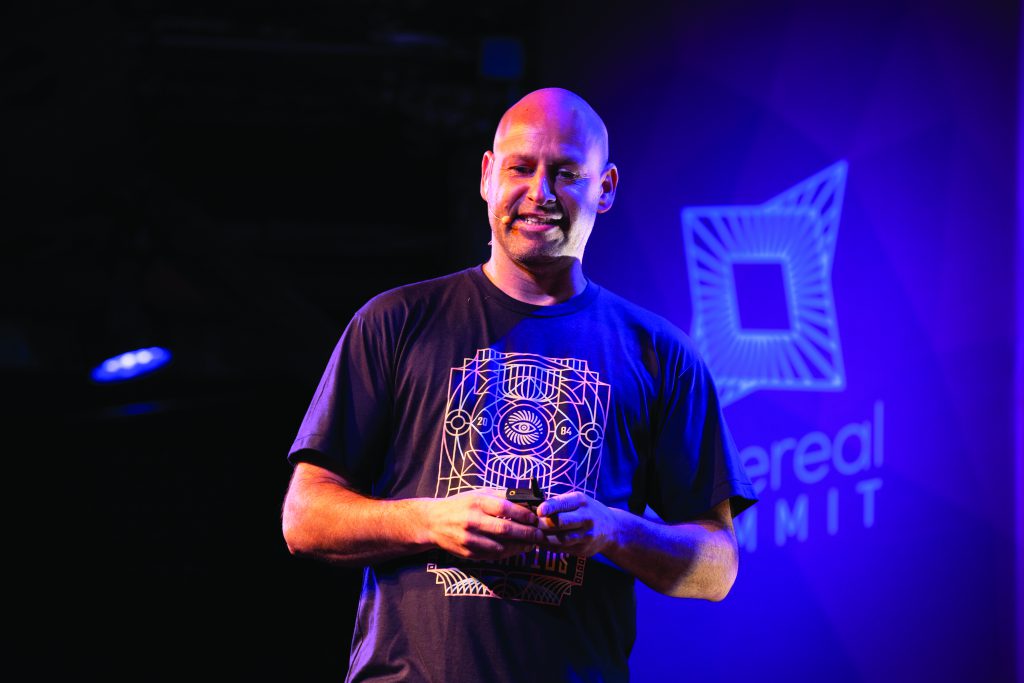 One of the pioneers of Ethereum is Joe Lubin (53), who can be found among the top five on Forbes' list of the Richest People in Cryptocurrency, with an estimated fortune of between $1-5 billion. Lubin, a Canadian who celebrated his Bar Mitzvah in Israel, currently manages ConsenSys from his place of residence in New York. ConsenSys is a multi-faceted company, engaged in the establishment of decentralized projects, primarily on the Ethereum platform. The unique company employs over 500 people in a variety of fields, and is growing at a rate of approximately 50 new employees monthly.
Lubin comes to the field of blockchain after a long career in technology, which then evolved in financial and business directions. "After I graduated from college, I got involved in the field of robotics, image processing and artificial intelligence; from there I ended up in Goldman Sachs, where I dealt with the technological side of capital management, and from there I moved on to set up a hedge fund with a partner," he says. "My first encounter with bitcoin was after a short episode of time off in Jamaica, which I took in order to create music. I immediately understood the power of the coin and the idea behind it – returning financial power to the people. Ultimately, instead of complaining about the economic state of the world, someone decided to fix it himself and create an alternative to the financial establishments' complete control over our capital. Since the ecosystem was not yet ready, I did not wish to start some venture in the field – but the dream of restoring control to the hands of individuals within society so they could manage their own information outside of the existing monopolies, remained alive and kicking. When I met Vitalik (Vitalik Buterin, innovator and co-founder of Ethereum) and enthusiastically read his initial research paper for the Ethereum project, I instantly understood the enormous potential and decided to support it."
According to various publications, Lubin was the biggest investor in the Ethereum coin in its first years: "I imagined how we could make the technology of decentralization accessible and to enable millions of developers all over the world to create a simple and convenient platform for creating projects on the blockchain," he says.
While developing the Ethereum platform, Lubin went into his bitcoin reserves in order to fund the creation of ConsenSys, of whose shares he holds a significant percentage: "I founded ConsenSys with the aim of developing the trading market in the Ethereum coin – to open an app store, to launch developer tools and build all the infrastructure for a new market from the ground up. You have to understand, there was nothing here when we started. We wanted to give developers the feeling that they can build anything. That is the reason that ConsenSys was established without a consolidated structure, we knew that we would need to move forward according to the needs of the new market, and we created companies and developments according to the daily needs that we found among developers and entrepreneurs. When we saw the excitement of the entrepreneurs and the companies that we met, we began to consolidate teams around ideas and to gather them into companies."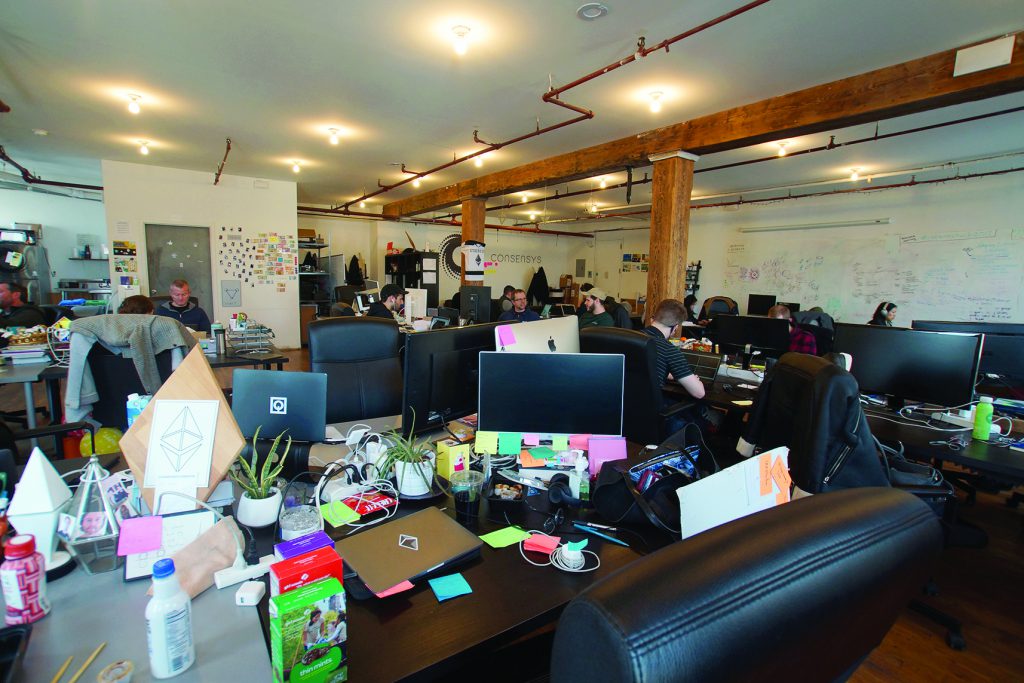 Billions of hits a day
ConsenSys is an exceptional creature in the familiar high-tech landscape, and this can be seen in every aspect of the company's activities. The world of digital coins and blockchain technology holds many challenges for entrepreneurs, since it requires intensive work on the part of lawyers, accountants, and security consultants, not to mention the human capital required to start a venture in the field. ConsenSys is trying to beat the challenge by way of an innovative investment model and incubator – ConsenSys Labs (see box), which offers salaries to selected entrepreneurs for the duration of the development period, as well as gratis legal support and assistance in coin offering.
"ConsenSys touches upon nearly every aspect of the economy in general and the new internet in particular; beginning with security and finance products all the way through consulting for insurance companies and government ministries. For example, our product for identity management and authentication is being used in the government of the Swiss canton of Zug, and allows citizens to easily access government services online." The company's products were also successful among developers; the MetaMask and Infura developments which enable identity verification and building a database on the blockchain, manage 6.5 billion hits per day, 2.5 times the daily searches on Google."
With potential of this magnitude comes great competition: "ConsenSys has plenty of competitors that are trying to build a whole ecosystem for entrepreneurs in the blockchain field; Cardano, Qtum, EOS, DFINITY, RChain, and others," lists Lubin. But it seems that ConsenSys is benefiting from the gap it created by being first, in order to establish its competitive advantage with the Ethereum coin.
How did you recognize the need for an ecosystem for developers?
"That moment was when I read the Bitcoin white paper. I understood pretty quickly the power of decentralization currency, and instead of relying on institutions, instead of complaining about them and trying to 'occupy everything', we had the ability to take it into our own hands and build an alternative infrastructure.
"What followed was not planned. I felt that the space was too amateur to build a business in it. I felt that all the businesses stood up by naive crypto anarchists idealists, and as much as I sympathized with them, they would get swept away, and that is pretty much what happened. But the space has matured, and the Ethereum project was compelling enough to me to stop living in paradise and travel around the world, and work 16 hours a days, 6.5 days a week. Because I thought it was important. Same thing for ConsenSys: we didn't intend to build it in its current form, we just gathered people to build some stuff on Ethereum, and the rest has evolved pretty organically.
"I believe we've become a really big magnet in our little ecosystem so that many incredible people have been attracted to come and work with us. Early on lot's of people showed up at the door and said I'm not going to leave until you hire me, and we still get a lot of that. We get tremendous interest from a diverse group of people. Lawyers, MBAs, Doctors, Designers, etc. All equally moved by this. This wasn't any grand plan I've put together, if anything, it is the universe and its wisdom".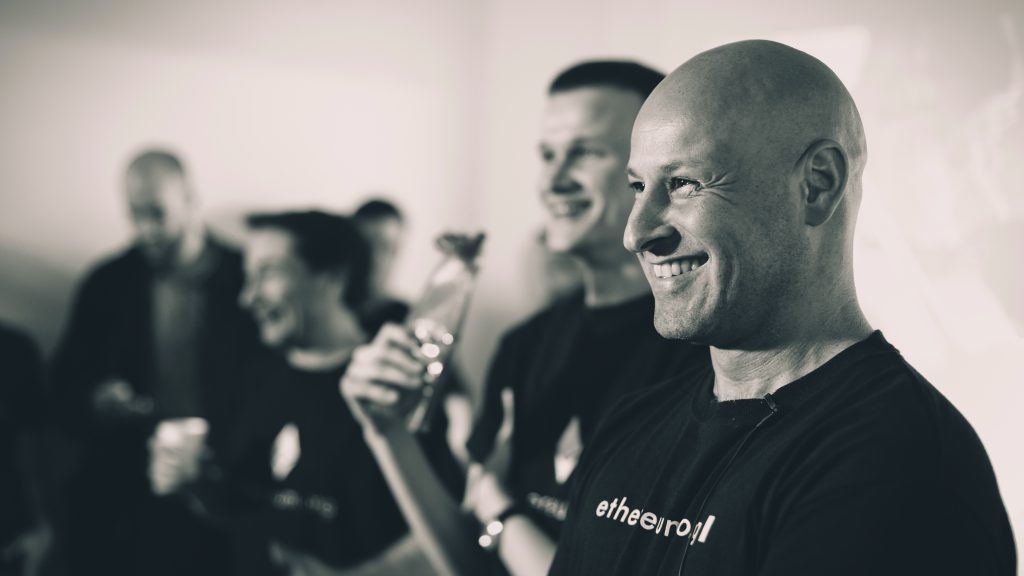 So you built a company that builds companies. How do you plan something like that?
"I did not imagine that the company would grow like this. If anything this is something the universe brought about. The entrance into the Israeli market began with a coincidence. During a standard job interview with Dror Avieli, a new employee who happened to also be Israeli, the question came up as to why ConsenSys had no presence in Israel, and from there everything just seemed to happen naturally. In addition to his role at the company, Dror will be a representative in Israel, together with Rachel Epstein."
In about two weeks you are planning to announce the beginning of operations here. What is your for Israel?
"We are building important operations in Israel, since Israel is the startup nation, and it would be a shame to miss out on such an important player in the market. Until now in Israel, similar to Silicon Valley, we didn't feel that they needed us. In these places, entrepreneurs have the freedom to build what they want and they have the technological ability to do that.
"We recently saw the opportunity to storm these markets because of the Facebook and Cambridge Analytica case, and the entire field of user's content protection. Those who are up to date on what's going on will know that users already understand the enormous power in the hands of the corporations, and the idea of decentralization and the user's exclusive control over his own information begins to sound sensible and necessary.
"Israel today has some of the best minds of technology and research in the field of decentralization and cryptography, and to this day we have not been represented in these areas, in which the industry is at its peak. All of this is about to change."
The first decentralized kibbutz
"We see ourselves as an organism, one body, one group, in which everyone does one thing for the success of the entire organization. Like a kibbutz, everyone is working towards a shared goal. We created an organization that knows how to establish an enterprise, which is then offered all the services and reinforcements it needs from every area of the blockchain," says Lubin. "You could say that ConsenSys is the first decentralized kibbutz," he jokes.
"An entrepreneur can begin to develop a particular product, and after launching it, he can move to a different initiative within the organization. We created freedom of movement for developers and entrepreneurs, that eliminates the feeling of burnout in regular companies, and paves the employee's way for the next thing."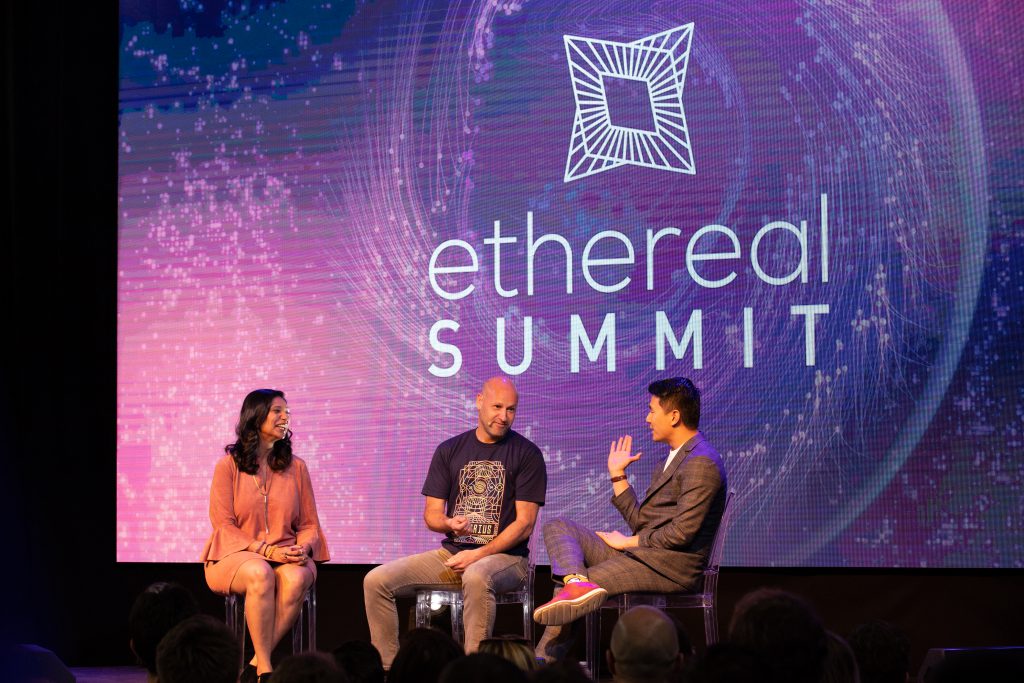 The market is unstable. It seems as though the world is moving towards more regulation for coin offerings and the tightening of supervision over startups on the market. Where do we go from here?
"There is no doubt that the peak of the crazy coin offerings that we saw in the past is already behind us. Gone are the days when it was possible to raise so much money without supervision. We see that projects today are going back to adopting the old approach to raising funds from venture capital funds. We are in touch with the regulators in many countries, including in the USA. There are countries that are closing operations in the crypto field, while others are actually very enthusiastic to embrace the market."
What do you think about the current prices of bitcoin and the other digital coins?
"We are not coin companies, we are technology companies. We are advancing the technology, not the price of the coin. Coin-based products form living, significant, and valuable products around them, which will positively influence the value of your coins."
The hit TV show "Silicon Valley" dealt with blockchain and coin offerings. Has the phenomenon entered the mainstream? What do you think of the future of this technology – is it here to stay?
"I have no doubt that the blockchain is here to stay. If until now companies have set up and built closed databases for themselves and worked alone for their own benefit without connecting to the outside world, today, by means of the blockchain, you can build databases that are able to communicate with one another, to build companies that help one another, and to move humanity forward. Yesterday, for example, at the blockchain conference in New York, we announced our collaboration with the movie giant Amazon – which will enable the sharing of databases with different companies.
The second huge advantage of this revolution is the ability to issue tokens (a digital coin based on existing blockchain platform) for anything. From tickets to a Beyonce concert, to raising capital, to identity authentication, to storing information. We can secure the information of every such token, and only the user will be able to access it."
Do you think that 50 years from now, industries like banks and credit card companies will simply vanish?
"Credit card companies won't be around in the near future. 12-year-olds won't open bank accounts, because they can keep their capital themselves. The banks will remain, but they will have to turn to other fields, such as investments and ventures, less managing your account."
What obstacles do you anticipate in the coming years?
"We do not see obstacles, we see challenges. These days it is hard to recruit good people into the field, the industry is advancing quickly, and there are challenges for the regulators to deal with. I believe that in the coming year we will discover the position of securities authorities towards the tokens, which will significantly influence the number of existing ventures, but in the long term, supervision and regulation will strengthen the community. In Israel, too, we would be happy to accept the invitation of a regulator and explain more about the technology and the power of adopting it."
The writer is co-manager of the Blockchain JLM community