"I don't think that I am smarter or somehow more special than others, really I don't," demurs Dr. Maor Farid, age 26. "I am convinced that what I have accomplished anyone could accomplish. Maybe I am more focused, but it is all a matter of hard work and the right tools. And for precisely that reason it is important to me to pass my message on to at-risk youth, so that they see that I'm like them, and that they can do it too."
They can do a doctorate at age 24?
"Yes, even that. I came from a home in which the word 'academics' was never spoken. My dad is a welder and my mom is a seamstress, and I was the first in my family to finish high school. People sometimes might unthinkingly call us simple people, but mainly there was a lot of giving and a lot of love in my house, and that's what made me blossom."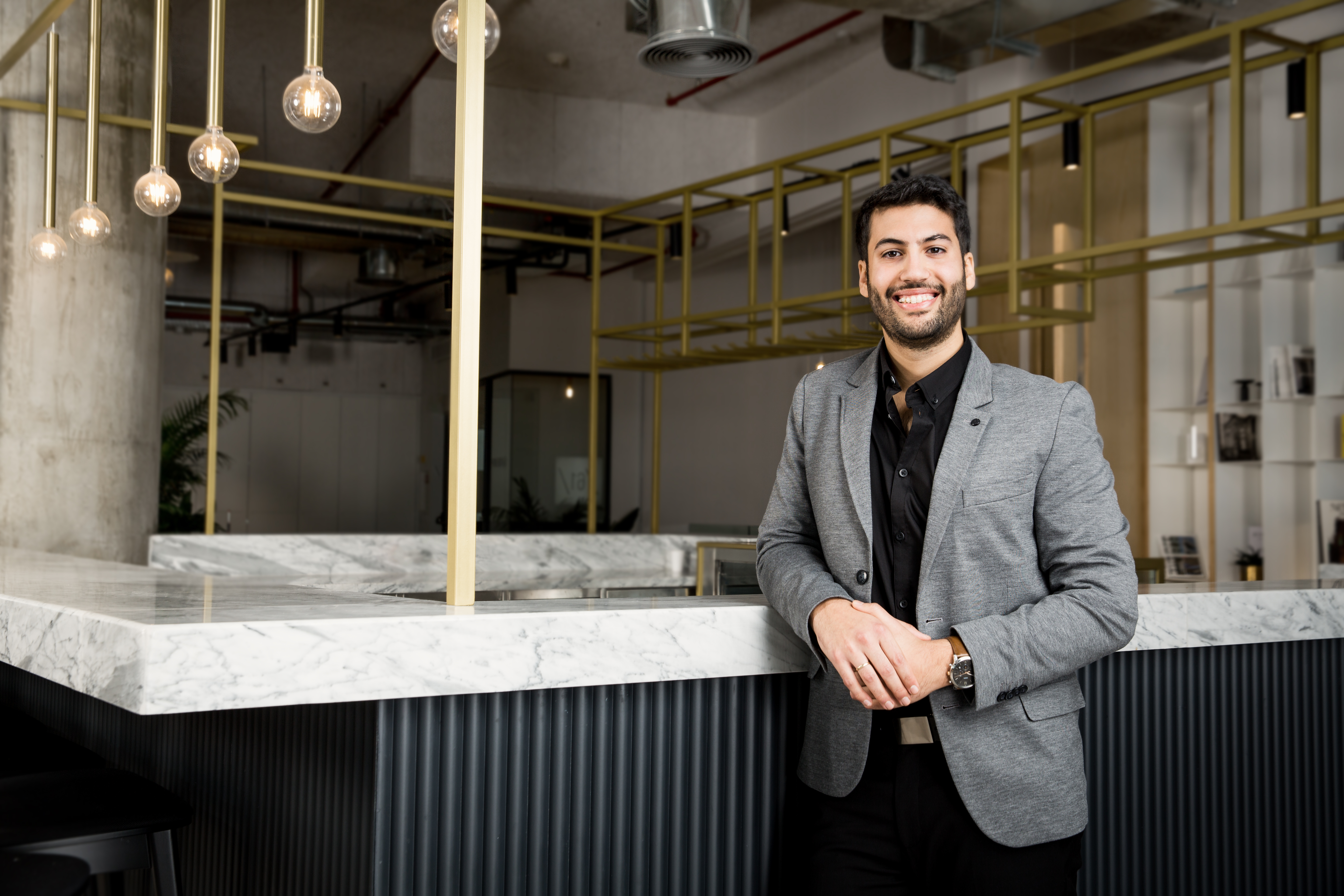 Farid's blossoming, or perhaps 'takeoff', was in two parallel fields: research and social innovation. With one hat – Farid is a research and development engineer at the Ministry of Defense and researcher at the Technion – he has published five papers in leading journals, a lecturer at international conferences and won funding of 1.5 million shekels from the prestigious PAZI fund of the Atomic Energy Commission and the Council for Higher Education. "I condensed my Bachelor's degree into three years, then the doctorate into two years – I did it all at once," he says.
His research for his Master's and doctorate dealt with "nonlinear dynamics" and chaos theory. Those are two interrelated topics, which together constitute the scientific discipline that deals with the study of movement and change within various types of systems – starting with the heartbeat, through fluctuations in the stock market to the route of a cruise missile, from the instant of its launch to its arrival at its destination. It is a rich world which uses scientific tools to describe how small phenomena in the present can lead to enormous consequences in the future – or simply, how the flutter of a butterfly wing in Brazil can cause a tornado in Texas.
In fact, this is the point of interface between the world of mathematics, physics and engineering. "Throughout the Master's degree, under the tutelage of Professor Oleg Gendelman in the faculty of mechanical engineering at the Technion, I fell in love with the world of research and set my sights on my next goal of doing a doctorate. When I approached the Prime Minister's Office on the matter, they referred me to the acute problem that they are facing – the implications of the next earthquake on critical security systems in Israel. According to the Geophysics Institute, a powerful future earthquake is likely to befall our region in the coming years, though the location, intensity, and timing are unknown. The field fascinated me and the meaning and contribution to Israel's security motivated me to work and progress even faster than usual."
The information speaks for itself
The study earned extensive governmental funding and awarded Farid the title of outstanding scientist in the IDF as well as international competition prizes – all of this while he was also serving his obligatory military service. Today he serves as a researcher in the Data Science team of the Ministry of Defense, which aims to provide security forecasts in an uncertain environment using advanced mathematical and algorithmic tools from the worlds of machine learning and artificial intelligence. "The Israeli defense establishment is flooded with huge amounts of information from various sources," he explains. "In mixed teams of tech people and people from the field, we take advantage of the capabilities of advanced computer systems and make information speak for itself, to tell us what the future holds. This enables us to provide an appropriate operational response and to make informed decisions even in complex and uncertain situations."
According to Farid, the team and the organization as a whole were signed onto a large number of classified and successful projects that fundamentally changed operational concepts and patterns of thinking in the defense establishment. "After a number of roles in the system I learned that beyond advanced technology, the secret to the success of the organization depends first and foremost on people. Today I am grateful to work alongside inspiring and exceptional people people, men and women, young and old, full of passion and productivity, who, every morning, make the State of Israel safer. Literally. I am proud to be a part of that."
Here we come to Farid's other hat: in addition to his intensive work, Farid, in partnership with Dor Zusman, established the organization, "Learn to Succeed", which works with dozens of at-risk youth in Beer Sheva and grants scholarships to students in the SCE engineering college to serve as mentors for younger students. He manages the organization on a voluntary basis and according to him, "it would be more accurate to say that I am a researcher when I'm not busy with the organization. The combination is very important to me, and when I was accepted to my current work at the Ministry of Defense, I was clear that the organization is my top priority, it's my baby."
Don't need pity
 Supposedly there is no connection between the worlds of research and social action, says Farid, but according to him, he sees links all the time. "Those from the economic periphery have a tremendous advantage in the world of research – they have natural tools for solving problems and high emotional immunity, which is essential for academic and industrial research."
How exactly does it work? Who are the youth that you work with?
"Today there are programs for at-risk youth and enrichment programs for gifted kids, but I wanted to start something that combines the two. The kids come to us from the authorities, these are the ones from the edge, they come from really tough situations, and we move with them from having no dream, to giving them direction. We work with the Beersheva municipality, and every Monday they come to the center where our fellows sit with them and help them out. We also do meetings and lectures at schools, run a hotline for youth in distress and distribute the book that I wrote, which describes my method, to thousands of youth."
How does the method actually work?
"You have to find the dream, the thing that would improve and repair your own world, to hold that at eye level. Not to ask if you are going to do something, but rather how do you intend to do it. Always look forward, always move towards the goal."
Would you define yourself as having been an at-risk youth?
"Not entirely. I grew up in Nes Ziona, which today is considered to be above average socioeconomically, but there are those who struggle, and we didn't come from a strong economic background. I have friends who turned to crime; it is not easy to work odd jobs in order to sustain yourself. I don't like to dwell on what I didn't have, and I pass that message along to the youth I work with too – we aren't sad or pathetic and we don't need anyone's pity, just some attention and company, help and support, not charity."
Do you still remember what it's like to fail?
 "It may not look like it, but even today I have failures. When we went to raise funds for the organization on Headstart, it was a challenge. It's not easy to fundraise from the general public, to explain how urgent the goal is, that until this problem goes away, every day that passes, young people will get into drugs or bad directions. There are lives being destroyed as we speak, but it's hard to snap people out of their indifference."
The quiz that changed everything
 Farid, who lives in Lod with his wife Michal, a medical student, says that his personal route did not naturally lead to success. "I was a kid with ADHD, not thinking about studies, but about recess, soccer, I didn't have good grades, and that led to violence in class. I could just as easily have wound up with a life of violence, I was already noted in the system as being problematic. But I remember that one day my father told me that it was very important that I study so that I wouldn't be like him. Suddenly I got it. I saw the hardship in his eyes, and I understood that my success in my schooling would improve this personal world, the family would be calmer, my father could work less. I could see him more. I understood that everything would be better and that it was simply a matter of my decision."
Farid began to stand out in an unexpected place – in the city bible quiz, which he won as a child. "Nobody thought that a kid who didn't wear a kippah, from a non-religious school would win that quiz – but I was simply looking for challenges. Every challenge there was, I would give it my everything," he tells. "There was a battle legacy quiz and the Tal legacy quiz. I went to them and won everything I could, just so my parents would be proud of me. I was making progress academically, but behaviorally I still had problems. I was in a youth program, but they threw me out, my needs didn't really interest them, maybe because it wasn't a voluntary program, like the one that I run now, but an organization that acted out of interests."
As he approached the army it was clear that this whiz kid was going to do great things. Farid, who had already become interested in engineering and computers, signed up for the enrichment program "Brakim" within the Academic Atuda of the IDF, and was assigned to the Prime Minister's Office, the Atomic Energy Commission, and Unit 8200. Even within that program he had unusual achievements – he was chosen as an outstanding IDF scientist, founded a course at Ben Gurion University and on the way published his book "Learning to Succeed". "During that whole time I had to work in order to support myself. I would work in restaurants, distributing flyers, whatever I could. My studies were covered but I still had to work. That was how the idea came to me to start the organization. I thought that when I could – I would help other young people to not get to this situation, that they would have more financial support," he says.
 In the meantime, you flew threw your academic degrees as fast as possible, how come?
"I saw that the research and the studies were so good for me, that I always wanted to be faster and stronger. That's my way of contributing to the country. It comes with a price, of course; I sleep less, but I am happier. I haven't watched TV for a few years now, and I save my free time for the people I love on the weekends. I don't like the word "career", it seems like an unromantic word to me. I am moved by the desire to contribute to society, and then time sort of arranges itself, it's flexible."
And what is the next goal?
 "My next goal is to be a professor. I would like to do a post-doc at Cornell University, in New York."
Translation by Zoe Jordan