Beauty Tech is the combination of AI and AR technologies to create an innovative beauty experience tailor-made for consumers. This is part of the journey of the entire beauty industry, led by L'Oréal all over the world. The change is reflected in the transition from selling products to experience and services while introducing digitization into the customer's journey. Accordingly, L'Oréal is developing new products that enable a continuous shopping experience from online to stores, such as smart mirrors.
The new technologies, artificial intelligence and the IoT, are constantly improving, alongside the performance of beauty products, with data being at the center of scientific knowledge. L'Oréal's services are growing both online and offline, and in the future, probably on Metaverse as well. The combination of 110 years of scientific experience and innovative technologies elevates the world of beauty to the next level.
"This is the case, for example, with Yves Saint Laurent's Scent-Sation, which was exhibited at the Vivatech Technology Fair in Paris in June," says Elie Sagiv, CEO of L'Oréal Israel. "We can recommend the right scent to consumers by measuring their emotions using a set of sensors to understand which scent tendencies, chosen by a questionnaire, make them feel the best.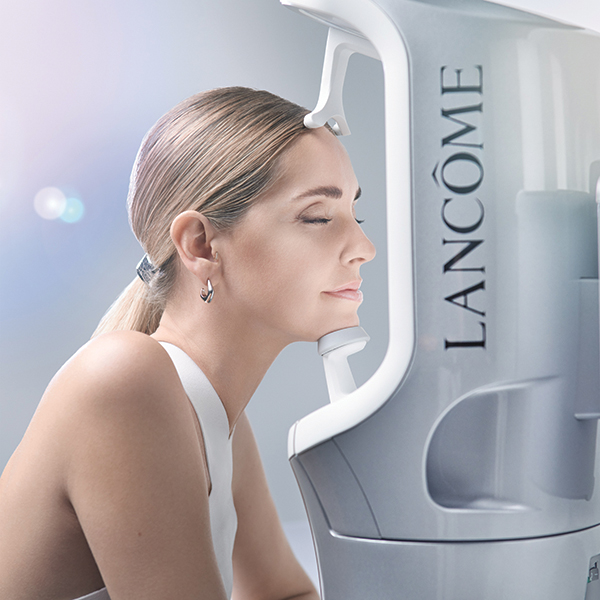 In addition, with the Lancôme Shade Finder, we can identify and create the exact shade of makeup for each woman, bearing in mind that there are 22,500 shades to choose from.
Another example is Perso, a home device that produces a customized Yves Saint Laurent Beauty lipstick by mixing three cartridges of different colors. To date, we have managed to produce more than 12,000 shades, thanks to approximately 20 patents and artificial intelligence."
"Measuring" a lipstick at home
It's also a way to bring consumers back to the physical stores after the increase of online sales during the Covid-19 pandemic.
"Of course. In the modern retail world, physical stores must become a unique place that provides complementary experiences and services, what we call an O+O combination – online and offline. These new tools and devices are also the way to build customer loyalty once they find the ideal shade of lipstick or makeup, as is the case at our Armani Beauty store in the Ramat Aviv Shopping Mall, for example, where a customer can experiment various beauty-tech tools, and measure on herself, even virtually from home, lipstick shades, eye shadows or blush colors, as well as make a video of the personal makeup instruction she receives from the store's makeup experts. She will then receive it within seconds on her smartphone to continue to learn at home, using AI technologies."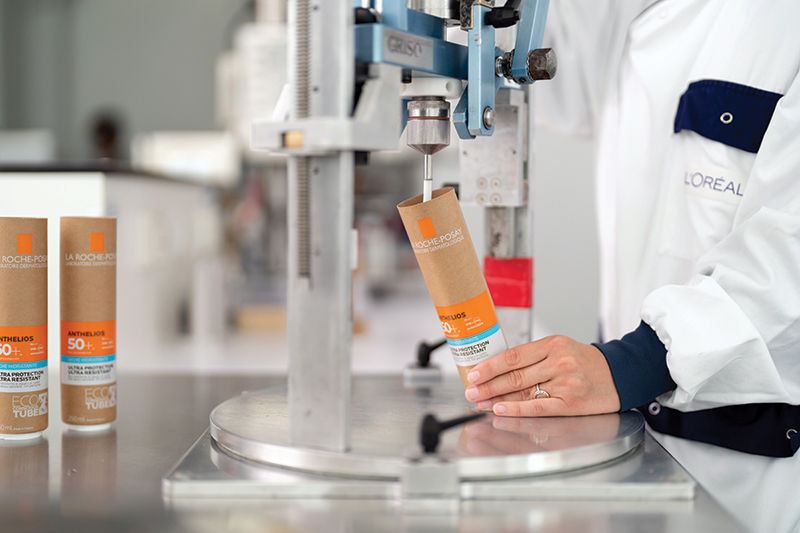 L'Oréal is a beauty company. Why is it investing in technologies? What other consumer usages do they offer?
"L'Oréal is a company that was founded on a truly scientific basis, it is the company that invented the first hair dyes in the world. Since then, the ambition has always been to invent the beauty of the future. Our scientific acceleration is accomplished through technology, in order to provide innovative beauty experiences. It makes us a company that is more diverse in our value offers, with more sustainable products. Here, in Israel, we are already fulfilling this promise.
Nowadays, every consumer can scan her facial features using dedicated apps from our brands (L'Oréal Paris, Vichy, Lancôme, to name but a few) and receive recommendations for a skincare routine after an accurate diagnosis of her skin. It is also possible to match an exact hair color by using Virtual Try On technology on the Garnier website. Even in retail, in the Armani Beauty and Kiehl's boutiques, customers can scan their facial skin and get an accurate diagnosis of blemishes, pigmentation, capillaries and more – and the ways to treat them. This is a real revolution."
Social and environmental agenda
What characterizes the Israeli beauty consumer today?
"Israeli consumers are very up-to-date as regards innovation and trends. They want high-quality and customized products, by a brand or a company having a clear social-environmental ethical agenda. We see that Israeli consumers are expressing confidence in our brands and in this value-based path, as our market share in Israel has steadily grown in recent years ".
What makes Israel unique within a huge global corporation?
"Israel belongs to L'Oréal's Europe Zone. It is an important market for the Group, both due to the sophistication and diversity of the Israeli consumers and due to the technologies and innovations we generate as the Startup Nation. The technological leadership and entrepreneurial spirit enable us to create the beauty that moves the world – which is the vision of L'Oréal.
L'Oréal identifies technologies and entrepreneurs that can integrate into the Group's business value chain. Already today, there are some very intriguing collaborations, for example with the Israeli startup Breezometer, which enables us to adapt a skincare routine based on data on the effects of weather on the skin, or with the establishment of a circular economy fund at L'Oréal, which identifies technologies for the treatment of plastic waste; and Israel, obviously, is a vast ground for such ventures.
Another example is the 25M€ fund that L'Oréal established with the aim of supporting women tech entrepreneurship around the world and in Israel. I hope that the next good news will be announced from Israel in the field of Green Tech – green technologies that we, at L'Oréal, integrate throughout the products value chain."
You have mentioned sustainable products. What is your approach on the subject of ESG and sustainability?
"We manage our business portfolio in financial and extra-financial aspects – ESG. Global companies Like L'Oréal, have, naturally, a great deal of economic, social and environmental impact on the world, and L'Oréal realized this a long time ago: the Company began its sustainability journey in the 1970s, and over the years has developed large-scale practices in the field, which include long-term goals for the management of the Company's social and environmental impacts, throughout its value chain – from the stage of raw materials and  product design, through the stage of production, transportation, marketing and even post-consumer use.
Significant global impact
"The ambitious global sustainability program, L'Oréal for the Future, which was launched at the end of the Covid-19 pandemic, defines clear and ambitious social and environmental goals that the Company must meet by 2030, including a deep internal transformation within its entire business processes, and encouraging all our stakeholders (suppliers, customers, etc.) to join these important environmental and social goals. We also encourage consumers to engage in more sustainable consumerism, by building a team of influencers who are entirely focused on sustainable content in the context of the beauty world."
How is this manifested in practice?
"L'Oréal has committed to becoming Net-Zero in its carbon emissions and is shifting from a linear economy to a circular economy.
By 2030, 100% of the packaging of L'Oréal brands will be made of recycled plastic, refillable, reusable, recyclable or compostable, and we will have achieved half of the goal already by 2025. By transitioning to green sciences, 95% of our formulas will be based on biological ingredients, 100% of the waste generated in our sites will be recycled, and we will achieve 100% renewable energy in all our sites."
Do the brands themselves also take part in this endeavor?
"Absolutely. Many of our brands have global social or environmental agendas, and thus the impact we create is significant.
It is a huge marketing force that drives social or environmental awareness, all over the world.
In Israel, we partnered with several important organizations with the aim of promoting common agendas – with the L'Oréal Paris brand we joined forces with The Association of Rape Crisis Centers in Israel to raise awareness of sexual harassment in public spaces; and to date, in cooperation with the Association, we have trained approximately 50,000 people on how to prevent sexual harassment when they witness it; with the ERAN Association (emotional first aid), we built a partnership together with Maybelline New York, to support young women and men experiencing anxiety and depression; and with EcoOcean Organization, we teamed up with Garnier, the brand that advocates green beauty, to promote beaches free of single-use and disposable plastics. Another example is La Roche-Posay, the dermocosmetic brand that supports The Israeli Association for Skin Cancer.
These activities contribute to the Company's success, increase employee engagement and contribute to promoting L'Oréal's vision – to create the beauty that moves the world."