For nearly 20 years, Forbes publishes the Global 2000 ranking, which unites the 2,000 leading public companies worldwide. This year we publish the Israeli ranking for the first time, including 100 leading public Israeli companies.
The Global 2000 rank is not based on the net worth of the companies alone. Instead, it emphasizes the current business activity, as opposed to the future potential of these companies, a parameter that doubled the companies' net worth to un-proportional scales.
The Interview with Wix president Nir Zohar is published as part of the Global 2000 ranking of the leading Israeli public companies.
---
The late morning hours at Tel Aviv Port attract many visitors who want to enjoy the hot sun and observe the quiet sea. Just a few steps away from the deck, there's a gathering of young people in non-committal dress code. One by one they collect in a long line in front of the wix.com cafeteria.
They do this every morning, on their way to the office which is located right on the waterfront. Today, the hottest conversation in line is of the upcoming Purim party planned for all 2,500 Israeli employees. "We must be the only ones holding such a belated Purim party. It's already June," says Nir Zohar, the president of the company and COO.
The main reservations were about whether employees would agree to participate in a costume competition in such hot weather. "When I sent an email about the party, I also read we sent when we canceled the previous party at the last minute, in March 2020, due to the outbreak of the pandemic. It said: 'Don't worry, I promise that later on this year, when things calm down, we'll throw another party.' Then it became clear that I had been overly optimistic, but it's finally happening."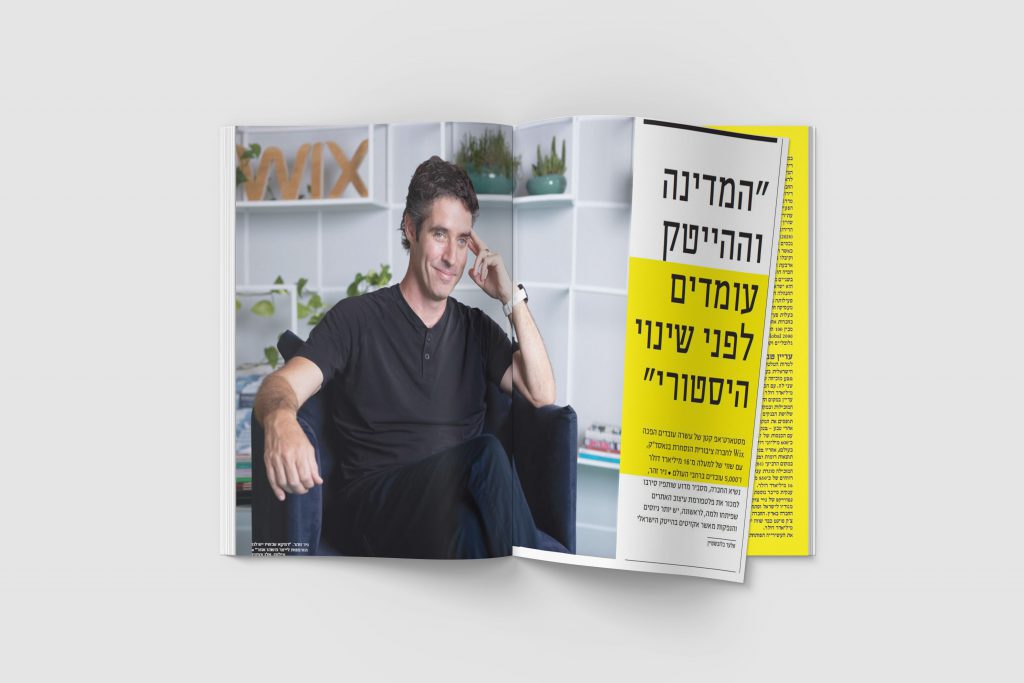 The coronavirus actually benefitted Wix, business-wise, and the website-building platform recently crossed the 200 million user mark. Shares of the NASDAQ-listed company have tripled since it marked a low point in early April. The company's worth is now estimated to be over $16 billion dollars, which makes it one of the most highly valued publicly traded companies in Israel.
Out of the 5,000 workers employed in 23 locations around the world, around 1,000 employees were recruited during the pandemic. "In accordance to the coronavirus limitation in different countries, there are still some employees that didn't even meet their managers face to face yet. Some of them didn't even spend a day in the actual offices," says Zohar.
A fist through the door
The pandemic ushered in significant changes in internet usage habits. That made many businesses realize that they must create or strengthen their online presence. According to Zohar, these changes were already happening before COVID-19, but the pandemic accelerated them. "Companies like Wix reduce the costs of creating an online presence for your buisness. It takes away the complexity and it simplifies the whole process. We have 3 million new users every month. They subscribe to our platform for a reason. They're driven by a certain desire, and I help them realize that desire. "In the span of a year or even just a quarter — there will be ups and downs in this process. Over a period of five years or so, we will see only growth," says Zohar.
Zohar's optimism is not unfounded. In 2007, the company, which was founded in 2006 by Avishai Abrahami (CEO), Nadav Abrahami (co-founder and VP Client Development), Giora Kaplan (the technological manager), and the late Dr. Orit Mossinson — summoned Zohar and asked him to temporarily join the team, and he stayed ever since.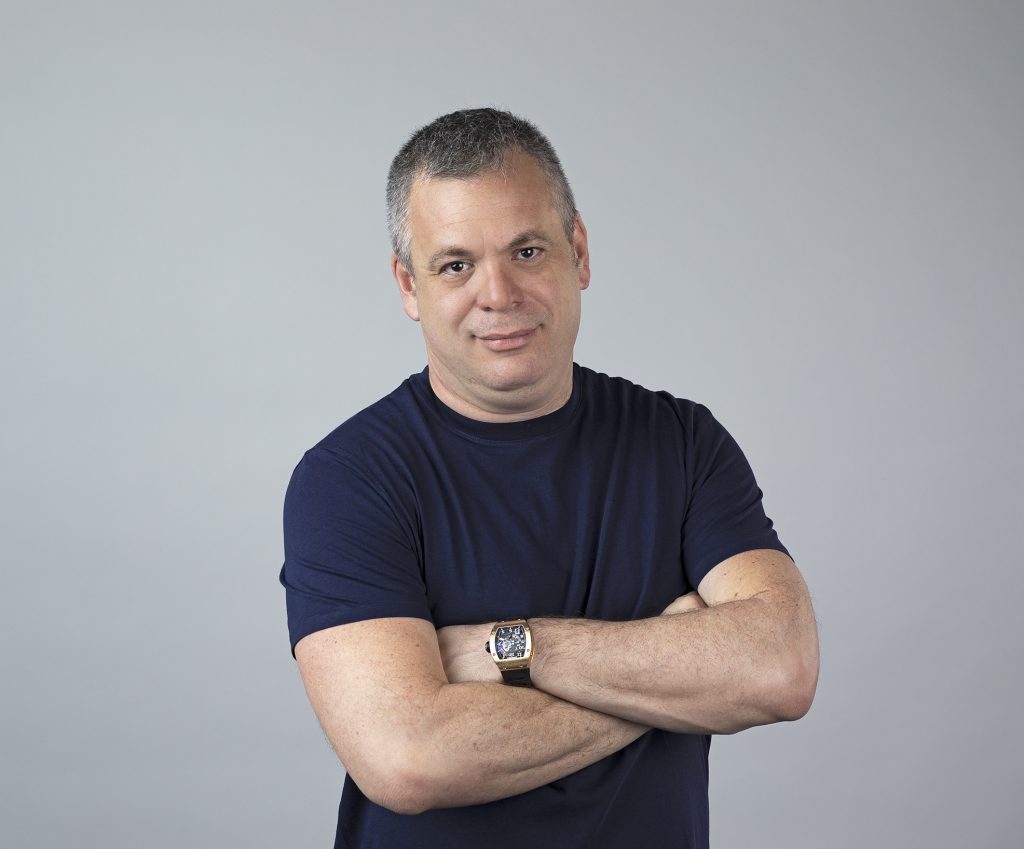 Using Wix's platform allows users to build websites for free and with no prior knowledge in programming or design. The basic Wix package is free, but additional features, like personal branding, domain personalization, etc., are offered for an additional fee. There are 5 million paying users for the service and on average, a client pays around 140 dollars per year.
The early version of the product was launched in 2008. The offices In HaHashmonaim st. in Tel Aviv were small and only had ten employees. "I was working part-time position and I did all kinds of odd jobs at the company. I basically did anything that needed to be done. It started with organizing things in the office like buying plants, installing a passcode on the front door because a week earlier someone had come in and stolen a laptop. After the theft, one of the employees was really pissed off and punched the door, and now there was a hole in the door and that needed to be fixed too and while we were at it, I had to figure out insurance", Zohar recalls.
"Kids must learn programming from 1st to 12th grade, like they learn languages. It is the language that the world lives by right now, and it is also because it is the best way to increase the amount of people working in this industry, and it will help in closing the gaps."
"Avishai had just gotten married, right at the same time we launched the product, and a big article about us was published on an international technology website, so we were afraid that the networks would crash with all the traffic that will come from this publication. We brought laptops to the office and stashed them in the trunk of a car so that if something were to happen, we could take care of it during the wedding," he recalls.
The global financial crash of 2008 happend shortly after they launched the new product. In November of the same year, the board of directors tried to figure out how the company would handle it. "We were selling four subscriptions a day. That was nothing. But, according to our model and our ever-growing traffic, we saw the patterns of people who were using our product, and we figured that if we could reach 80 new subscriptions per day on a monthly basis, within 6 months we should be okay. We had to cut back on the manager's salaries for a while in order to set an example, but apart from that, we stuck to our original plan.
"In April 2009, we reached an average of 86 new subscriptions per day. "We stopped 'burning' our money, and that was the most important thing. That was a mental shift that I had to go through as an entrepreneur. Money is a huge concern that haunts you, night and day. It makes you restless" says Zohar. "That was the most significant moment for me as an entrepreneur."
'Dumb' enough
Since its' beginnings, the company has operated as a start-up and raised around 43 million dollars in four funding rounds. In 2013, it was issued on the Nasdaq and raised $93.6 million. "The fundraising and the IPO was to help us to grow. This is the real perspective shift. I didn't raise money because I thought it's all over, but because I wanted to grow faster. That's a totally different experience from an emotional and mental perspectiveve," says Zohar.
In 2013, an IPO was an extraordinary event for Israeli companies. Zohar recalls that since 2000, there had been over a decade of 'drought' that affected Israeli companies that tried to get public. Then came Wix's IPO. "We established a new narrative which was uncommon at the time: go public and continue growing."
"We talked to many entrepreneurs who went public recently, people who are close to us and who we helped on more than one occasion. We have significant stock in what has become the dominant narrative nowadays. It is the first time since the establishment of Israel that there are more fundraising and IPOs than exits."
A moment before the IPO, you were offered to sell for billion dollars. Where did you get the courage to refuse that offer?
"We were dumb enough then," laughs Zohar. "We had very serious offers, but we always had a really strong team of people. This 'togetherness' gives you a feeling that there are others that will go the distance with you consult with you. I am not alone. We really believed that we have great potential and that we should keep on. Some buyers would say that when they buy your company, you'll stay in it and everything will remain the exact same. But it doesn't matter. It's not your company anymore."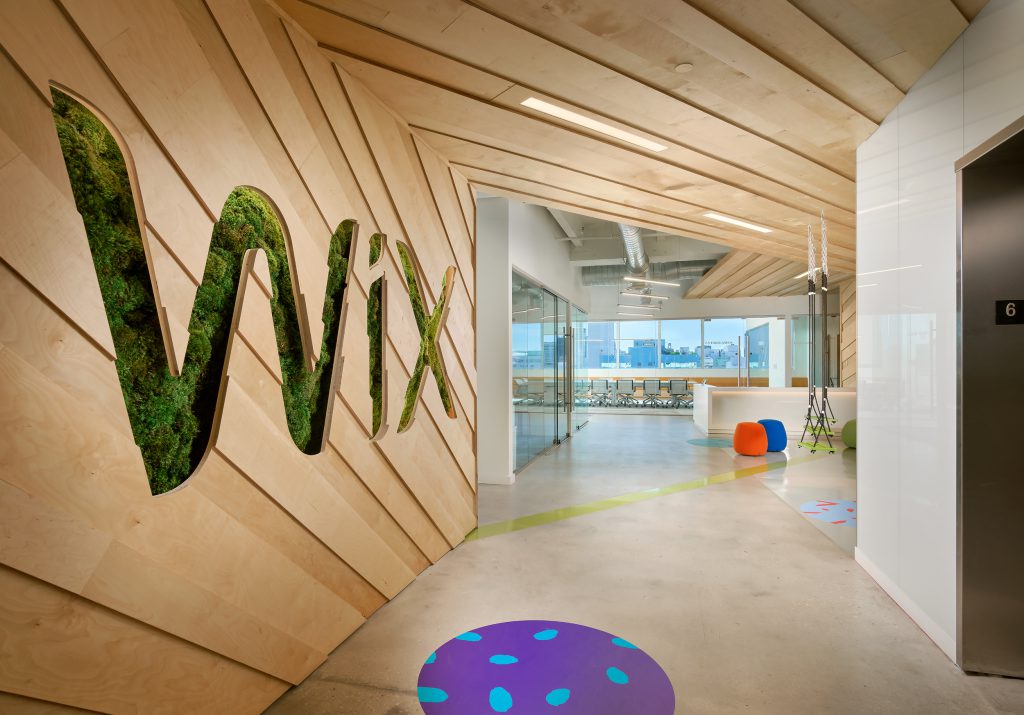 Were there concerns before the IPO?
"Of course. An IPO was a foreign, unknown thing. There was not a single Israeli entrepreneur that we could talk to about it. The two main people who we got the chance to talk to about it were Gil Shwed (founder of Check Point) and Eyal Waldman (founder of Mellanox).
"A year from now, a whole bunch of people can say to themselves that they worked for a public company. They'd have people to consult with, both about technical issues and emotional ones. We had nobody to talk to."
A new species
Zohar (43) grew up in the Ramat Aviv neighborhood. He would spend hours between the bookshelves at his mother's workplace, Tel Aviv University library. To this day, reading is one of his passions, and throughout the conversation, he surprises me with trivia from different fields.
He joined the Scouts in the seventh grade and he loved to lead and to instruct from a very early age. He always liked working with others and decided to take the naval officers' course during his military service, and he became a commander. After his service, he traveled abroad and worked at summer camps of the Jewish Embassy in South Africa.
He even managed to teach literature and history at a school in Holon, as part of a year-long internship. "I think that in the end, as a company, the biggest changes that you can make are through education. Those are also the most difficult changes to make because it's hard to actually see the results at the end. Most of the time you don't get any credit for it. I think that what I have in common with other entrepreneurs is that it is hard for us to accept faulty things as they are. That's what pushes us toward innovation, that what makes us try to completely reinvent thing," says Zohar.
The current prime minister is a former entrepreneur. Do you expect any particular changes to the high-tech industry?
"I hope there will be a change and I believe there has to be. The country is on the verge of a dramatic change. I estimate there will be 30 IPO's of Israeli companies this year. It's amazing. A huge amount of money is getting to Israel. There is fierce competition in the search for new talents. There is an incredible opportunity to expand the available human resources. At Wix, for example, only 50% of employees work in research and development. We have a full range of other professional areas: designers, support staff, product teams, management, and so on. In smaller start-up companies there's less variety.
"High-tech comes into contact with almost every aspect of governance. I think the Ministry of Education needs to teach kids programming from 1st through 12th grade, and teach it like a language. First of all because it is, in fact, a language, one that the world lives by, that is. The second reason is that it is the best way to increase the number of people that will work in this industry in the future and it will help closing the gaps.
"Nowadays, the work environment is changing. We must create regulations that is adapted to this changing environment. These things are resolved both at the Ministry of Economy and the Ministry of Justice. We are in a historical moment in the sense that Israel is going through dramatic changes, with all the companies that are being established here. Precisely now, with an entrepreneur as prime minister, we have an opportunity to create something different.
"In the span of a year or a quarter — there will be ups and downs. Over a five-year period we will only see growth."
Zohar also tries to implement his insights in practice. In 2014, when Wix grew following the IPO, he began to use his experience and initiated the establishment of the Israel Growth Forum. When the forum began, he brought 12 companies together, out of which only four were public at the time. Today there are 26 companies in the forum with many of them going public. Kerem Nevo, who currently serves as Zohar's chief of Staff at Wix, manages the forum.
"Israel did a great job in building the flow chart that it was familiar with. There were start-ups here, and the dream around here then was that Google would show up and acquire these start-ups and build development centers. To that end, the country funded these start-ups, among other things, through the Chief Scientist. But the flow chart that looked more or less opposite, that these start-ups might turn big themselves, like Wix, was not cultivated in that model."
Zohar offers a particular instance to help illustrate the complexity of the process: "We wanted to develop in the Japanese market, and I had to bring a few consultants from there to here. It was a nightmare to arrange visas for them for a year, and just to get them took three-four months, which were then deducted from the total year in the end. When we began talking to the Ministry of the Interior and the Population and Immigration Authority, we realized that there was a different procedure for international companies. When I asked the clerk, 'How do I tell the Ministry of the Interior that I am an international company?' He replied: 'Here, you're telling me now.'. There was simply no mechanism for it.
"The forum helps the country to understand that there is a new kind of species: big, multinational Israeli companies; I have offices in 10 different countries, now let's figure out what that means."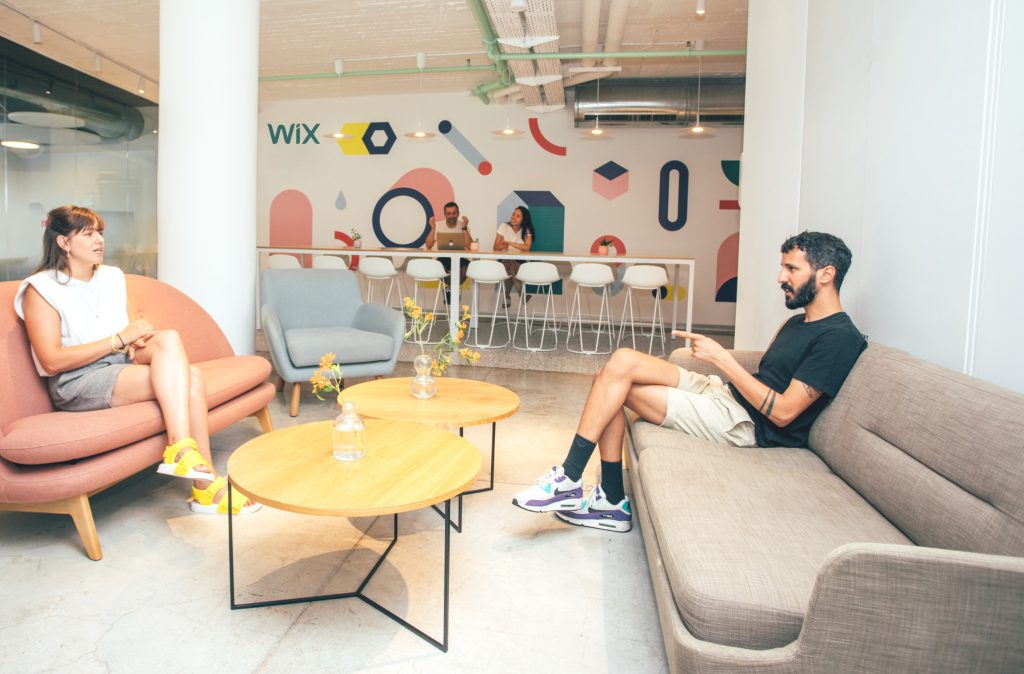 The beer test
Zohar is not interested in going into too much detail regarding Wix intended improvements for the near future but he does say that the company "wants to delve deeper into the variety of options that it provides to users, and also to adapt to all kinds of users, from those who are intimidated by computers, to the developers who wants to build apps or a specific search engine for flights. I also want to adapt it to every kind of business, because every business requires different functions."
Is there a particular characteristic that is important to you in your employees?
"Not just one specific thing. It really depends on the role that the recruit is going to perform. One of the most interesting questions that you can ask yourself while you are recruiting new employees is if the recruited can imagine himself hanging out for a beer with him or her. If the answer is 'no', I don't think the person should be hired. Not everything is based on professional skills and considerations.
"I think that work environments are based primarily on social connections. People can be very professional or totally awful. There are also a lot of people that I am glad to meet and learn new things from. I don't believe that the professional approach has to be the primary drive, because people are the sum of all of their parts.
"I want to challenge my staff, I want them to feel that they are developing and that they have an impact. Our culture gives employees direct contact with the users and the realization that when they are doing their job well, the clients' businesses do well. When a business owner is successful, particularly a small business, he is making money to feed his family. It's an amazing thing to be a part of that success."