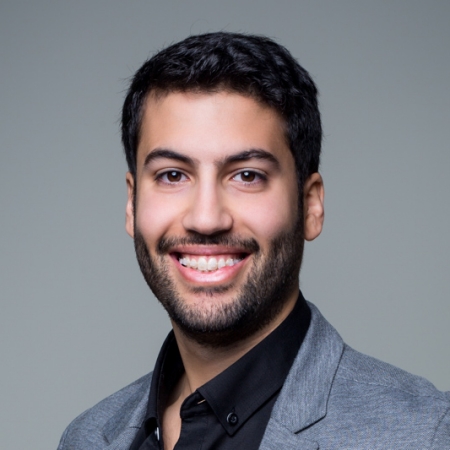 Like many Israelis, the war caught me by surprise. On that day, I left my CEO position in Tel Aviv, put on my uniform, and stood at the entrance to my unit's base, ready for any mission.
But nothing could prepare me for the phone call from the US Embassy, after several days of military service. It was the director of the Fulbright program in Israel, a US government initiative aimed at identifying leading scientists worldwide and inviting them to pursue advanced studies at top US universities. I had completed that program nearly four years ago.
After a few minutes, a representative from the delegation managing the president's visit to Israel contacted me. He informed me that the president would be interested in hearing two things from me. First, he wanted to understand "the secret of Israeli magic" – the magic that can transform a child from an immigrant family from Iraq into an AI researcher at MIT and a representative of Israel in Harvard's leadership program.
The second thing he wished to grasp was the secret of Israeli resilience – what drives academic researchers, CEOs of companies, and tech workers to drop everything on a moment's notice and stand on IDF bases by the thousands.
Sharing Israel's Story
On the other side of the line, the embassy representative assured me that the Israeli delegation members were selected because they represented not just the picture of the ongoing conflict but also the unique mosaic of Israel. Extraordinary individuals from different backgrounds, religions, and regions.
A few hours later, all of us from the Israeli delegation gathered at a Tel Aviv hotel. After hours of waiting in a closed room with my fellow delegation members, President Joe Biden entered. He moved among each member of the delegation, listening intently to their stories. It was evident that he had come to listen, support, and embrace, plain and simple.
---
"He wanted to understand "the secret of Israeli magic" – the magic that can transform a child from an immigrant family from Iraq into an AI researcher at MIT and a representative of Israel in Harvard's leadership program"

---
When he approached me, I shared with him what he wanted to hear. I told him that while I am the CEO of the startup Leo AI and the head of an association empowering at-risk Arab and Jewish youth called "Learn to Succeed," since October 7, I and thousands of my brothers and sisters have been 100% devoted to serving our homeland. I explained that we had left everything behind – our children, wives, husbands, and elderly parents – all for one mission: defending our nation.
I made two requests of the President. First, to continue fully supporting us until we eradicate the Hamas regime from our land, not only for the sake of our generation but also for our children and grandchildren. Then, I clarified that the unfounded attacks by Hamas militants are not aimed at national liberation; rather, they are anti-Semitic acts, targeting Jews solely because of their ethnicity. I emphasized that we are fighting against anti-Semitism on the ground, in the epicenter of global hatred towards Jews, and all I could ask of him was to combat systemic anti-Semitism in the US with full force, for the sake of the Jewish people and the free world.
Unwavering Support For Israel
After President Biden completed his personal conversations with all of the Israeli delegation members, he instructed the media to leave the room, creating an intimate setting around a small table where we all gathered. In this informal setting, he spoke freely and openly in ways we never expected. He referred to Hamas as "a bunch of cowards" cowering behind their own citizens. He promised unwavering support for Israel, not just in words but in actions.
At one point, he pulled out a metal object from his pocket, a cross-shaped wheel-like emblem, and said, "I am a Catholic Christian. I say my prayers every day, just like my father, who was a devout Catholic." He continued to emphasize how similar we all are, and that this entire war stems from a disconnect between them and our people. If they were less focused on hatred and more on understanding us and knowing that we are a peace-loving nation, they would not have committed the acts they did. "Maybe it's because they spend all day on their phones," he remarked. "This generation relies too much on technology and artificial intelligence and too little on human understanding."
After a lengthy conversation, he was called by his team to start the press conference held in the adjacent room. We bid farewell with applause, hugs, and handshakes. When he walked out the door, we looked at each other, finding it hard to believe that the experience we had just gone through was real.
The message I took away from my meeting with the most powerful person in the world is that he is not just a repository of policies handed down through generations of US governments, or empty slogans of support for Israel. He is a person, connected to our people, genuinely feeling our pain, and this is a unique opportunity to bring peace back home for generations to come.
---
Dr. Maor Farid is a Forbes 30Under30 graduate, The class of 2019, and CEO of Leo AI and "Learn to Succeed"