Two trucks packed with hundreds of kilograms of explosive materials raced through the streets of Mogadishu. Within the same hour, one Saturday noon, thousands of people packed one of the busiest squares of Somalia's capital, known for its cafes, hotels, restaurants and government buildings. According to a number of testimonies, the trucks broke through the road barrier, one of many stationed around the terror-stricken city.
According to a different version, there was a short chase between the security forces and the terrorists in their vehicles of death, until they reached a traffic jam, caused by passersby that blocked traffic in the bustling street. Either way, the final result was the same: two hellish trucks exploded in the heart of the crowd with such force that destroyed whole streets. It was the biggest explosion the city had every seen. Tens of cars went up in flames from the force of the blast and buildings collapsed on their occupants.
Many days passed before it was possible to extract the casualties and hundreds of injured. Some perished under the rubble. Only after long weeks did the actual extent of the tragedy come to light: over 500 people were killed in that one fatal event which went down in history as the most murderous terror attack in the last decade, and one of the three most deadly terror attacks in modern history. While nobody claimed responsibility for the deadly attack, many experts attribute it to Al-Shabaab, an extreme militant-Islamist organization, that has sworn allegiance to and operates as an official branch of Al-Qaeda.
Hardly a month passed before terror struck again, at its most forceful and cruel, this time in Egypt. Dozens of armed terrorists, riding jeeps and armed vehicles, raided the local mosque in the small village Bir al-Abd in Northern Sinai during morning prayers on a Friday and opened fire indiscriminately on worshippers, having blocked the exits with cars. The showy, meticulously planned attack was, according to experts, carried out by a branch of ISIS in Sinai. Over 300 people were slaughtered and more than 100 were injured. This lethal event was the deadliest terror attack ever to happen on Egyptian soil and, similar to that in Mogadishu, is among the ten deadliest in history.
As such, 2017 has turned out to be an especially bloody year. Over the course of the year, eight huge terror attacks were executed, each with more than a 100 fatalities. Six of the eight deadliest attacks claimed the lives of nearly 1,500 people this year in Syria, Libya, Afghanistan, Egypt and Somalia – planned, financed and carried out by the Taliban, ISIS or Al-Qaeda. According to the Institute for Economics and Peace, in 2015, these organizations were responsible for approximately 74% of the world's terror victims.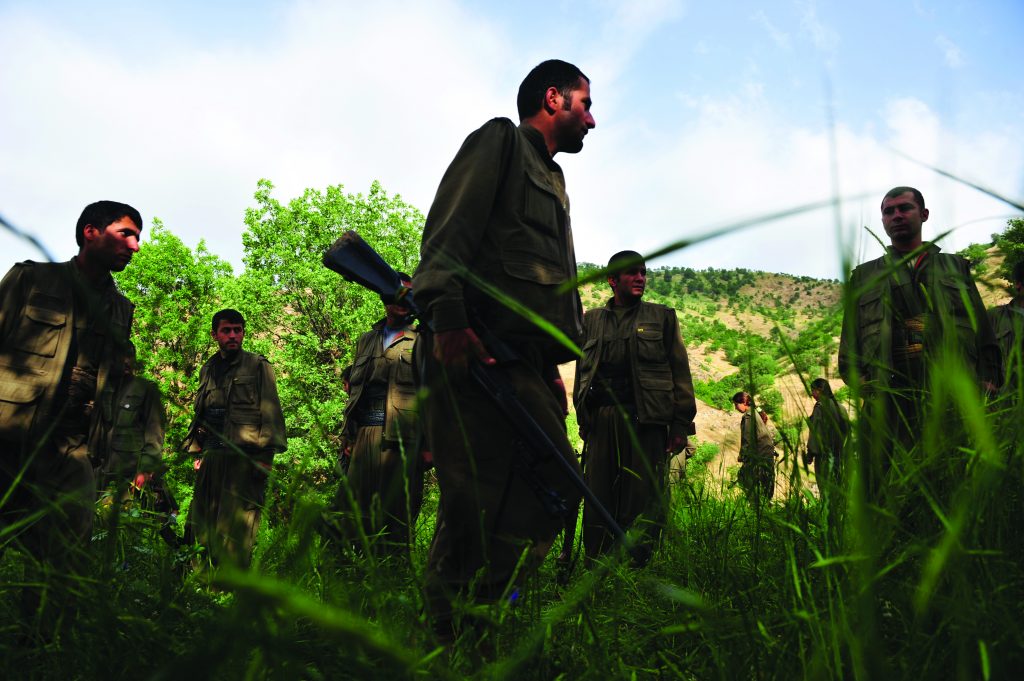 The Killing Industry
We created a unique report, based on the Global Terrorism Database of the University of Maryland, an extensive database which demonstrates how dominant these same terrorist organizations are in the global killing industry: in 2016, for example, 13,488 different terror attacks were recorded. Among those that were attributed to specific organizations, more than half of those terror attacks were carried out by ISIS, the Taliban or Al-Qaeda, and their many outgrowths throughout the world. Around 34,700 people were killed by terror attacks in 2016 alone. Among those attributed to specific organizations, IS was responsible for the murder of 11,623 people – around 34% of the total number and around 46% when removing from the picture those attacks that were not attributed to a specific organization. The Taliban, not far behind, slaughtered 5,000 people that year – around a fifth of the total number of fatalities.
It is no coincidence that the most lethal terror organizations in the world are also the wealthiest. "There is a clear connection between the two factors," agrees Maj.-Gen. (Res.) Amos Gilad, chairperson of the Institute for Policy and Strategy and former head of the Political Security Bureau for the Ministry of Defense, in an interview for Forbes Israel. "The financial component of terror organizations is critical, and its indispensability for terror attacks is like fuel for the car," he adds.
And indeed a terror organization, like any other organization, needs money to run. Money to finance operations, to pay salaries to operatives, to run training camps, to acquire weapons, explosives, means of transport and equipment, as well as ongoing maintenance. This costs a huge amount of money and the extent of the resources needed to fund terrorist organizations differs from one organization to another. For instance, terror organizations such as Hezbollah, Hamas or until recently, ISIS, need a lot more money than the cost of the ongoing activity of a "regular" terrorist organization. These organizations maintain social, religious, political and economic systems, and they require tremendous funding in order to manage the needs of the population under authority or influence.
Apart from salaries for active operators and members of the military and political factions, the heads of an organization must allocate huge sums for building and maintaining housing, educational institutions, hospitals, aid and welfare organizations – sometimes even management and maintenance of government institutions such as a central bank or legal systems and institutions, transportation and internal security. In this way, the income side of these organizations will indeed be significantly higher, since the means of funding (the population paying taxes, land that provides access to natural resources, etc.) are greater and more varied, but their expenses are also immeasurably higher than the average.
ISIS' Financial Crisis
Despite the high expenses, the many financial resources of the wealthy terror organizations grant them significant advantages which they exploit to increase their influence and strength. One such example is the way in which certain terror groups use the money at their disposal, with the goal of keeping their existing military power and recruiting new members. According to a UN Security Council report published at the beginning of the year, the ISIS would compensate its fighters generously and use its extensive sources of funding to expand and recruit additional fighters. In many cases, ISIS used large sums of money to tempt terrorists with "a fighting background and previous experience."
The Islamic State organization, until recently the richest terror group in the world, with an enormous annual income, paid double the salaries compared to other terror organizations. An Al-Shabaab fighter earns an average salary of about 30 dollars per month, an ISIS fighter earned 33% higher – around 40 dollars, while an ISIS fighter with a family would get a salary of nearly three times that – around 80 dollars a month.
All this was of course before the ISIS's financial crisis which, on account of a lack of funds, was forced to cut down and delay salaries to fighters. These fighters, in light of difficult times, were even forced to find additional work to support themselves. According to some interpretations, the same way that the Islamic State organization gained broad support and global recognition in its good times, its financial troubles today may bring about the loss of many supporters from different Muslim countries the world over. Affiliated organizations that promised loyalty to ISIS may, in light of its present struggles, "defect to competing organizations" – Al-Qaeda, for instance.
No Money – No Victims
In order to understand the clear connection between financial and operational capacities, one should note the following statistical data: in the last decade, around 20 thousand people were murdered by the Jihadi terrorist organization Boko Haram. About a third of them, more than 7,000 people, were killed in 2014 alone. Starting then and until present day, on account of their financial troubles, there has been a drastic decrease in the terrorist activity of the organization, and at the same time, there has been a decrease in the number of victims. According to data from the Global Terrorism Database, in 2016, the number of terror acts that the Nigerian organization successfully initiated was around 56% and the number of fatalities plunged to around 80%.
No wonder. In the report presented before the Security Council, professional sources testified that the heavy financial pressure that the murderous Boko Haram organization is under brought its fighters to the brink of starvation. The African organization's leaders' inability to pay salaries even led to its fighters' desertion and defection from the ranks.
As such, financial means are an essential necessity for terrorist organizations. But means of fundraising are inherently limited and are conducted primarily through underground channels, outside of and above the law in the global shadow economy. In many cases, the nature of fundraising activity is remarkably similar to that of criminal organizations – dealing in drugs, weapons, tobacco or humans, through bank robbery or collecting money in the name of "protection" and even abduction for ransom.
Alongside the clearly criminal activity, there is also open activity in which enormous sums of money change hands between funding bodies and terror organizations. This fundraising involves associations, charitable organizations, companies in business, finance bodies, wealthy businessmen – and as it would seem in recent years – governments and states of means.
"Behind every successful terrorist organization is a financial system and in many cases a country," declared the head of IDF Intelligence, Major General Herzi Halevi at an intelligence review conducted this year at the Herzliya conference. "In our region, Iran is the primary funder of terror organizations." And indeed, in the comparison of the estimated income of the richest terror groups that we conducted three years ago, one of the salient trends emerging from the findings is the significant strengthening of those terror organizations supported by assisting countries (Hezbollah, Hamas, the Islamic Jihad) and the weakening of those that depend on independent sources (ISIS, Boko Haram).
Iran, one of the three countries defined by the US State Department as a terrorist country (along with Sudan and Syria), is the main sponsor and force behind many terrorist organizations. Its centrality in the balancing of economic (and militant) forces of terror organizations in the Middle East has become critical as compared to previous years, and its importance in terror groups' internal systems of considerations has become crucial.
All of this is possible on account of Iran's being rescued from the financial quicksand in which it was sinking until not long ago. "The signing of the nuclear agreement and lifting of the sanctions was the removal of the rope around the Iranians' neck," asserted Major General (Res.) Amos Gilad. "The Americans actually saved them from economic strangulation."
Using Bitcoin to Avoid Risks
The involvement of other countries in the region, particularly those of the Persian Gulf, played a central role in the terror arena in recent years. Those countries constitute an important pillar in the financing of terror in the region, whether indirectly, by turning a blind eye to financial transgressions of private entities in the country, or by paying ransom for the release of abducted citizens.
Sometimes, as happened this year, the funding streams intersect – and the boundaries between aid money that flows to terror organizations from particular countries and ransom payments are blurred almost entirely. As part of the condition of the ransom transaction for the release of 26 members of the Qatari royal family that were abducted in Iraq by a local Shiite militia, supported by Iran, Qatar was "forced" to pay an imaginary ransom which, according to an exposé by Financial Times was around a billion dollars. The unprecedented payment that financed some of the deadliest terror organizations in Syria and Iraq (and Iran itself), was seen by many as direct support of terror by the provocative princedom of oil and led to the famous boycott imposed by Saudi Arabia, the United Arab Emirates, Egypt and Bahrain.
And in addition to "traditional" means of funding, whether lawful or criminal, terrorist organizations are always perfecting their ways of raising and transferring capital from a variety of funding sources, through use of any technological means at their disposal. The Wall Street Journal recently reported that the FBI had exposed an international network run by ISIS that used fake ebay and Paypal accounts to transfer funds to operatives in the US. For some time now Google and Youtube have become the preferred platform of terror organizations for sharing propaganda videos which, thanks to their popularity, has granted them not just exposure and penetration into new audiences, but also generous royalties from advertisers. Sometimes the terrorist groups use the most advanced methods, such as the money transfer system built by IS that uses cryptocurrencies such as Bitcoin in order to avoid traditional bank transfers and accompanying risk.
The rapid growth in recent years of trade in virtual currencies that uses an alternative global financial system and is characterized by complete user anonymity, grants terror factions many new and secure possibilities for raising and transferring funds – options that did not exist until very recently. Joseph Fitsanakis PhD., global expert in intelligence and national security from Coastal Carolina University asserts, "through use of cryptographic currencies and a 'dark net' platform, today's terror organizations can raise and make money in creative ways. This includes, among other things, sales of pirated music, films or online games or sales of counterfeits and fake brands in a variety of apparel products, electronics and gadgets. Terrorist factions even sell fake medicines and tickets to shows and sporting events – and all this trade is carried out through use of cryptocurrencies, primarily through the dark net."
Killer Income
In light of the low information transparency and the high security sensitivity, putting together estimates of the income of terror organizations was complicated. Even the basic definition of what a terror organization is can be subject to different interpretations, and is often determined by security interests. This ranking is based on the definitions of the US State Department, that publishes and updates the list of international terrorist organizations every year.
For the purposes of estimating income, thorough and comprehensive research was conducted that included collecting and analyzing information from a variety of different sources. Many of these sources are based on reports, estimates and statistical data of government and security entities, intergovernmental and extra-governmental organizations, universities and institutes of research and study as well as investigations by leading newspapers and media. To complete the picture we conducted thorough interviews with military and security experts, terrorist investigators and professionals that deal with the financial warfare of terrorist organizations around the world.
We put together the first ranking three years ago. Since then, the time that has passed and the material accrued enabled us to create a reliable and qualitative update of income estimates of terror organizations. But apart from examining the financial means at the disposal of today's terror groups and the ways in which each organization finances its operations, the current investigation allows a behind-the-scenes glimpse into the way in which these organizations operate: what trends characterize the activities of terror groups, how has the map of their interests changed, who are the financiers behind them and how has the balance of power in the global terror arena changed in recent years.
Translation from Hebrew: Zoe Jordan